Agile has achieved a great deal of traction over the last couple of years, and companies right, left, and center are aiming to implement an agile methodology in their workforces.
And in light of this, how can you run a successful agile project?
One way to achieve this is by taking the help of agile tools. These tools are aimed to aid your project management lifecycle with the agile manifesto in mind.
However, with the popularity of the agile methodology, there is a vast number of such tools in the marketplace to choose from.
That is why we curated this list of the best to make this choice just a little easier for you.
But before we get into our top picks for the best agile tools, it is important to understand what we mean both by agile methodology and agile tools. Furthermore, you need to know what to look for to classify as a contender for a good agile tool for project management.
What is Agile?
'Agile' can be classified as a project management methodology that is portrayed by using short work cycles to build products that customers want. These short cycles allow for rapid production while conducting constant revision and feedback on the product.
What are Agile Tools?
Project management tools that support agile methodology can be defined as agile tools.
With agile project management tools, project managers are aided in their project management lifecycles with the resources, budgets, and timelines of a project.
These tools help project managers manage each aspect of a project with mechanisms that allow for collaborating, file sharing, and progress reports that allow managers to keep track of how their project is progressing.
What are the Essential Features for Agile Project Management?
There are certain features in project management tools that make them great for agile teams. These features might include:
Progress visualization allows for an easy view of where each team member stands with the tasks assigned to them
Strong collaboration opportunities are a hallmark of a good agile team, and features allowing this will help focus on achieving the agile manifesto, which includes "individuals and interactions over processes and tools."
Backlog management allows you to prioritize user stories and bugs
Custom workflows allow you to update issues automatically based on events
Kanban or Scrum boards give you an overview of the tasks, assignees, and status of each project
You can track the total work remaining in a particular time period by burndown charts
Best Agile Tools for Project management
Now that we have outlined what exactly Agile is, let us get on with our list of the top agile tools for project management in 2023.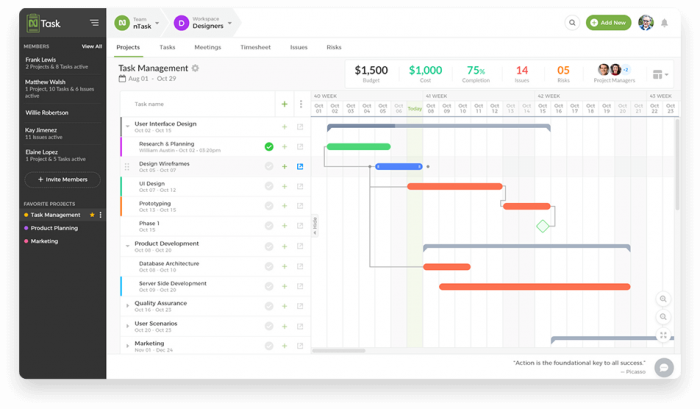 We are kicking off our list with one of the most versatile agile tools available in the market, nTask is the perfect topper for our list of agile project management tools.
nTask is a project management tool that aids the way to agile methodologies and allows for painless agile implementation.
This tool tops our list because it incorporates all things project management into a single platform allowing you and your team to work effectively and reach your goals efficiently.
Use The Best Agile Tool for Project Management – nTask

Manage all your tasks, projects, meetings, timesheets and more in one place. Sign up today!
Software features:
nTask lets you easily plan your projects, tasks, timesheets, etc.

Systematically create and manage to-do lists.
Identify dependencies with nTask and highlight them accordingly
Set start and end dates for any particular task

Assign tasks to your team and collaborate in real-time

nTask allows you to assign multiple assignees allowing quicker task allocation
Collaboration features allow you to collaborate with your team in real-time easily
Options available to attach files to your tasks

Keep track of all your task activities and updates

Track task progress with nTask's robust progress reports
Customize the status of tasks to keep everyone in the loop
Segregate your tasks into respective categories and add labels and filters for clarity

nTask provides visualization features allowing you to visualize your progress

Gantt charts allow you to schedule and track project performance
nTask's calendar allows you to plan your events

nTask allows you to track, assign, prioritize and fix bugs and issues faster with nTask's issue management system

Assign issue severity levels
Highlight issue priority levels
Bug tracker facilitates comments and file attachments to ensure everyone gets notified of issue updates

nTask's risk management tool allows you to define risks, their likelihood, and current status of your project team

Use nTask's risk matrix to identify relationships between the probability of a risk and its resulting impact
With nTask, you can manage your risks efficiently and lower their impact
Pricing:
Basic plan for free

Issues tracking
Timesheets
Meetings
Unlimited tasks
Unlimited workspaces
Limit of 5 members per team
100 MB storage

Premium $3 per month

Everything provided in the basic plan, plus
5 GB storage
Projects
Gantt
Bulk Actions
Custom filters

Business plan for $8 per month

Everything provided in the premium plan, plus
10 GB storage
Save custom filters
Risk management
Custom roles and permissions

Enterprise plan customizable plan

Everything in business, plus
Custom onboarding
Dedicated account manager
Dedicated cloud
2. Monday.com

Next on our list is Monday.com, this agile management tool is great for teams following agile or even hybrid methodologies.
This agile-based tool will help your project management with features that include calendar, time tracking, and planning.
Monday.com allows you to track your agile projects through dashboards that will collect your data from multiple boards you work on to see work in progress. This, therefore, makes it a great project reporting tool.
Software features:
Reporting features
Your project's development can be tracked through multiple views such as Kanban, timelines or charts
Task, resource, and document management
Workflow automation is possible
Team collaboration ability
Timesheet tracking
Pricing:
Basic plan for $8 per month per user
Standard plan for $10 per month per user
Pro plan for $16 per month per user
Customizable enterprise plan
Related:
Asana Vs Monday Vs nTask: Which Project Management Tool Is the Best?
3. Jira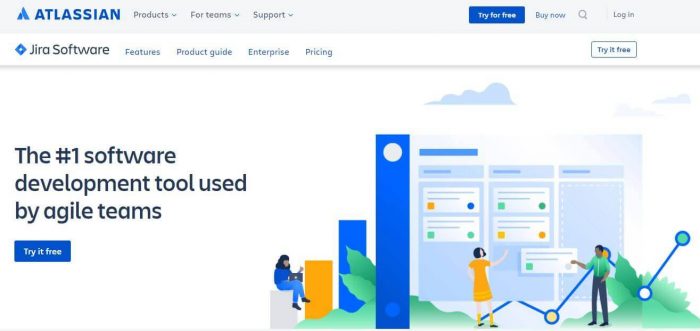 Atlassian's Jira is a popular tool used in agile software development and a prevalent project management program.
The agile software development tool, Jira, allows you to plan, track, and manage your agile as well as your software development projects.
With Jira's software, you can customize your workflow while collaborating, allowing you to release great software.
Although it should be noted, if you need certain features not offered in the free plan, you may start raking up a hefty bill for fairly large teams.
Software Features:
Custom fields
Bug tracking
Customizable Scrum Boards
Epics
Issue tracking
Reporting with real-time image of your progress with burnout charts, sprint reports, cumulative flow diagrams, velocity charts
Developer tool integrations
Pricing:
Free plan
Standard plan for $7 per month per user starting price
Premium plan for $14 per month per user starting price
4. ActiveCollab

ActiveCollab is the next tool on our list and is on the list of great agile project management tools.
With intuitive document management and budgeting and reporting features that are unlike any other, this is a great software to consider for your agile project management needs.
Although it should be noted that ActiveCollab lacks Gantt Charts and prefers to display progress in a timeline or column view that may not agree with everyone.
Software Features:
Project progress
Ability to set recurring tasks
Option to create labels
Workload reports
Task management, with updates and task tracking all in one location
Provides you with the option to integrate your email
Team collaboration features such as @mentions, collaborative writing as well as an all-in-one calendar
Time tracking features such as time-tracking reports and a timer app
Pricing:
ActiveCollab project management for $7 per month per user
Additional paid bundles for $4 per month per user
5. Pivotal Tracker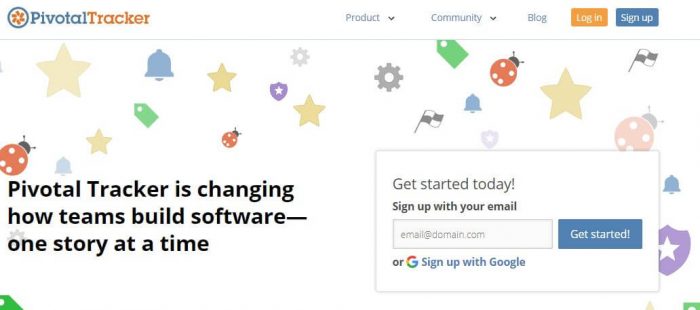 Yet another popular tool used in agile methodologies is Pivotal Tracker. The software claims to be an agile project management tool.
The software is a popular tool for developers and provides a place for real-time collaboration around a combined, prioritized backlog. Thus, Pivotal Tracker can also be seen as a great agile team collaboration tool.
Software features:
Multi-project workspaces
Reporting features and analytical representations of project trends, cumulative flow, cycle time report and more
File sharing
Option to create labels
Task management
Story linking
Automatic planning based on velocity
Pricing:
Free for 1-5 collaborators
Startup plan for 6-10 collaborators for $10 per month
Standard plan for more than 11 collaborators for $6.50 per collaborator per month
Contact provider for enterprise plan pricing
6. Clarizen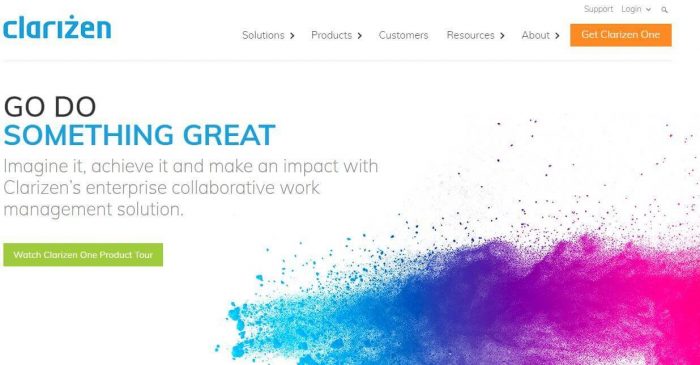 Clarizen is a flexible project management tool that can easily be configured to be able to support agile as well as hybrid methodologies.
This agile planning tool is aimed at helping your project happen quicker with streamlined workflows.
Project portfolio management is completely covered with Clarizen's features, allowing project and portfolio optimization which in turn allows you to align projects with your business objectives easily.
Software features:
Flexible workflow automation
Task management and planning tools
Dashboards allow for teams to become aligned and aid in collaboration easily
Project timelines for easy planning
Option to run scenarios to stay on top of your project's progress
Real-time insights available to see available resources, schedules, and tasks
Integration options with other enterprise tools
Pricing:
Contact for pricing plans
7. Axosoft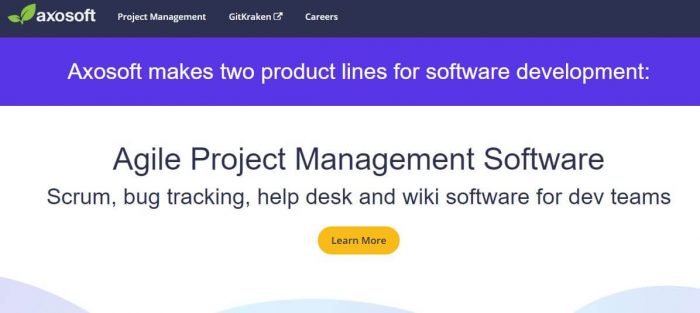 Axosoft is the next agile project management tool on our list. Axosoft is specifically a scrum management software.
With this agile planning tool, you can visualize each step of your development process for your project and view your progress with the Axosoft graph features.
This software allows for a completely streamlined process from planning to releasing a project, allowing you and your team to work more effectively.
Software features:
Time estimates feature
Stack ranking
Burndown charts
Daily scrum mode
Backlog management
Kanban boards
Negative feedback management
Status tracking
Team and workflow management
Pricing:
For a plan hosted by Axosoft, $126 per month, when paid monthly
For a plan installed by you, a total of $1,250
Related:
18 Best Agile Testing Tools for Project Managers in 2023
8. MeisterTask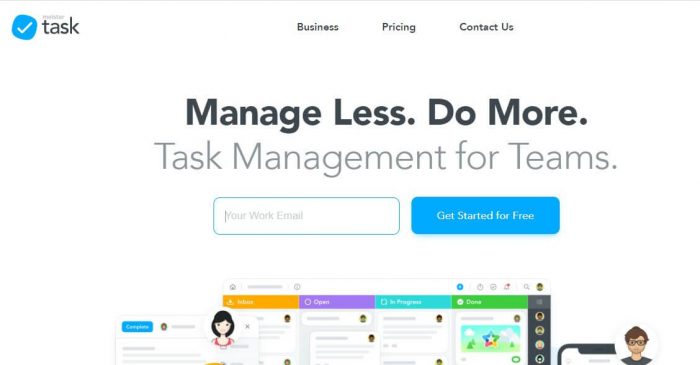 Up next is MeisterTask. This agile project management tool was created with the needs of agile teams in mind.
The software accommodates different workflows, making it a popular choice for many agile teams.
With flexible project boards, the tool can easily adapt to your team's workflow, and options available to integrate with your favorite tools allow the software to create a seamless workflow with smart automation, allowing you to work efficiently and consistently.
Software Features:
Backlog management
Options to view the progress of your project and reports with Gantt charts or a timeline view
Request and resource management
Status tracking abilities
Team management
Workflow management
Kanban boards
Milestone tracking
Pricing:
Basic plan as a free agile tool
Pro plan for $4.19 per month
Business plan for $10.39 per month
Contact for custom enterprise plan
9. GitLab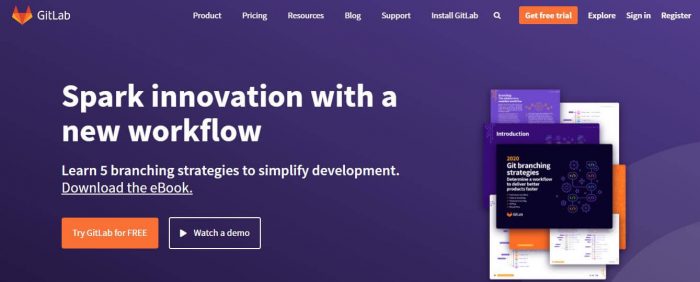 GitLab is a cloud-based DevOps platform that helps businesses improve operations and therefore is a popular tool used in agile software development.
This agile software tool helps fast-track software delivery, thus reducing costs and risks associated with application vulnerabilities while simultaneously increasing developer productivity.
Software features:
Workflow management
Kanban boards
Multiple collaboration tools
Reporting and analytics features
Approvals workflows
Portfolio management
Pricing:
Free plan
Bronze or starter plan for $4 per user per month
Silver or premium plan for $19 per user per month
Gold or ultimate plan for $99 per user per month
10. Productboard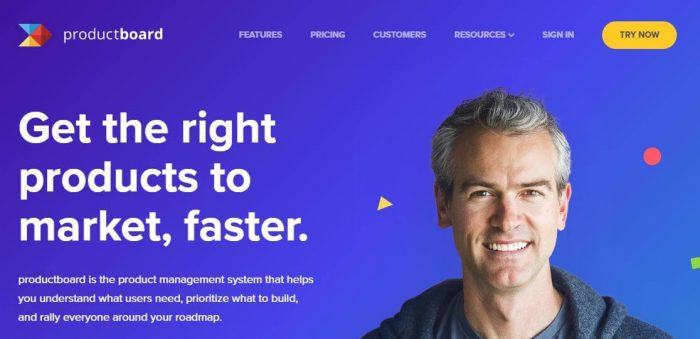 Next up is Productboard, an agile product management system that allows your entire team to be aligned in the development cycle.
Customizable boards allow teams to have the right balance of flexibility and guidance.
Software features:
Kanban boards
Progress reports in Gantt or timeline views are available
Backlog management
Request management
Workflow management
Negative feedback management
Pricing:
Individual plan for $59 per month per user for five contributors
Team plan for $119 per user per month for 20 contributors
Business plan for $199 per user per month billed annually for 50 contributors
Contact for custom enterprise plan
11. Zoho Sprints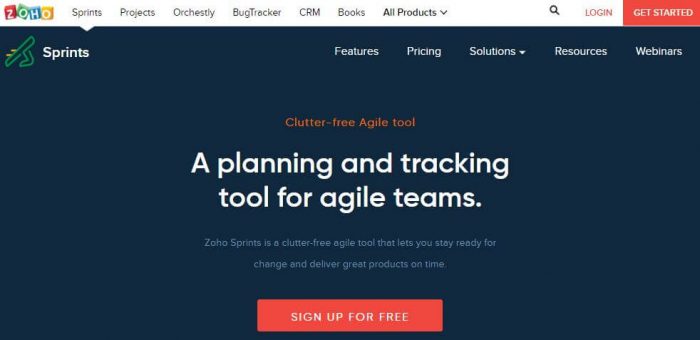 Zoho Sprints markets itself as a planning and tracking tool for agile teams and therefore is the next software on our list.
Zoho Sprints allows teams to plan and track projects the agile way and thus is suitable for anyone who wishes to work in iterative cycles.
Software features:
Backlog and negative feedback management
Gantt or timeline view available
Request and resource management
Status tracking
Workflow management
Kanban boards available
Team management
Supports Scrum
Pricing:
Free plan available
Plans start from $12 per month
12. Taskworld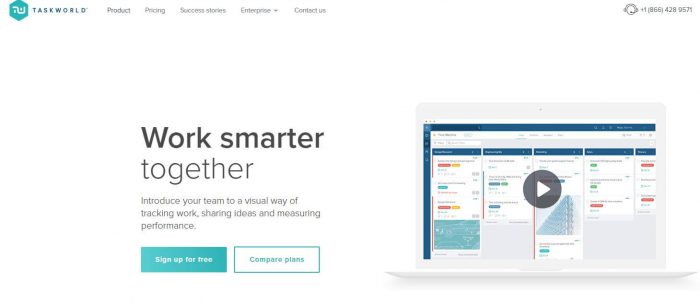 Taskworld also makes our list an easy way for teams to manage projects on agile while also keeping track of work.
The app allows for a single platform for all things project management with visual task management, project planning, remote work tracking, and team collaboration.
Software features:
Gantt and timeline views
Workflow management
Status tracking options
Kanban boards
Supports Scrum
Team management
Template management
Pricing:
Free plan available
Pricing starts at $10 per month per user.
13. CoSchedule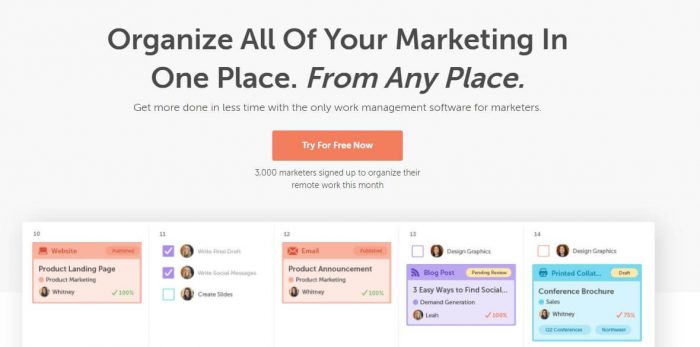 CoSchedule provides a platform to organize all your marketing needs in one place.
The platform houses a family of agile marketing products and thus is popular for helping teams to stay focused, thus enabling them to deliver projects on time.
Software Features:
Gantt charts or timeline views for your progress reports
Workflow management
Team management
The app supports Scrum
Kanban board
Status tracking options are available
Pricing:
Contact for a pricing plan for the Marketing Suite that offers a family of 5 agile marketing products to coordinate your team, processes, and projects
Blog Calendar for $19 per month per user
Marketing calendar $39 per month per user
14. Nostromo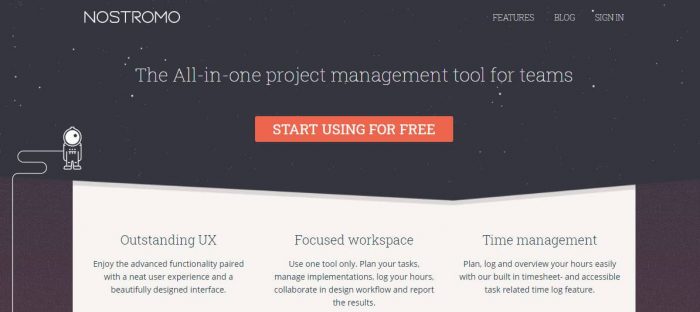 Nostromo is a project management tool that provides everything from project conception to implementation; all at one platform.
As a new industry contender, Nostromo holds its own with extensive features that include task management, reporting and analytics, and more. Some of the main highlights are appended below for your ready reference.
Software Features:
Supports agile methodologies
Includes tools for effective collaboration
Allows for idea management
Kanban boards
Portfolio management
Time tracking features
Provides the ability to expense track
Resource management
Pricing:
Free option available
Pricing starts from $5 per month per user
15. Todo.vu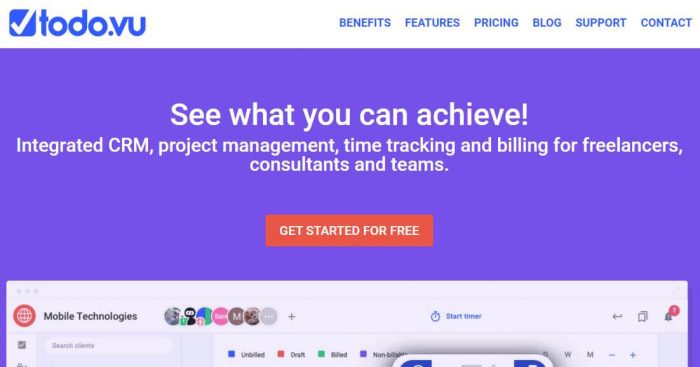 A little different than the other software on this list, Todo.vu is a blend of project management, task management, CRM, billing functionality, and time tracking.
The tool claims to provide you with a single place for you to manage all your work.
Software Features:
Negative feedback management
Team management
Request management
Discussion boards
Task management
Real-time editing
Time and expense tracking
Supports both agile and traditional methodologies
Pricing:
Solo plan for free
A business time plan for $9 per user per month, capped at $99 per month
16. VersionOne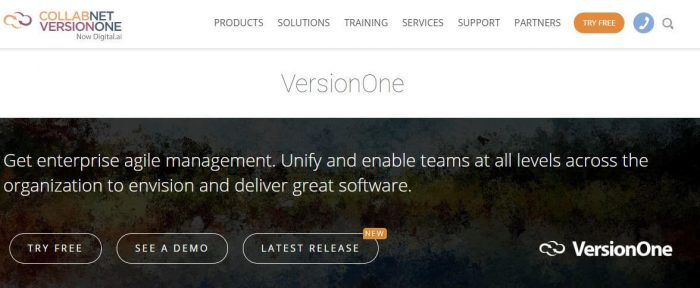 This is an incredible agile tool that you can use to juggle multiple teams working on many different projects simultaneously. Why is that so? Because the project development teams in question have to work on many different projects simultaneously, VersionOne will help you manage them easily.
Software Features
Agile portfolio management
Product road mapping
Idea Management
Test Management
Sprint tracking
Mobile optimized app
Epic Bubble Chart
Reporting
Product planning
Release planning
Sprint planning
Timeline project tracking
Sprint reviews
Visualize release dependencies
Open integration platform
Analytics
Pricing
There is a free version of the application available, which you can use to test the product before spending any money on the subscription
The paid subscription to the software starts at $29.0/ month
17. ProofHub

Next up, we have ProofHub. ProofHub is a feature-rich Agile project management solution. The tool offers a platform for teams to collaborate and share ideas, manage documents, communicate effectively, and streamline project management processes.
The software comes equipped with all the features and capabilities you and your team will require to use Agile techniques to complete your projects successfully. The tool is not limited to the Agile methodology and supports other methods such as the critical path method, the GTD method, etc.
Software Features:
Assignment management
Client portals
File sharing capabilities
Gantt charts and timeline views
Due date tracking
Collaboration tools
Content management
Customizable templates
Commenting ability, discussions, and forums
Pricing:
ProofHub offers flat pricing without other SaaS applications' per-user fee structure.
The ultimate control plan costs $89 per month
The Essential plan costs $45 per month
18. Nuclino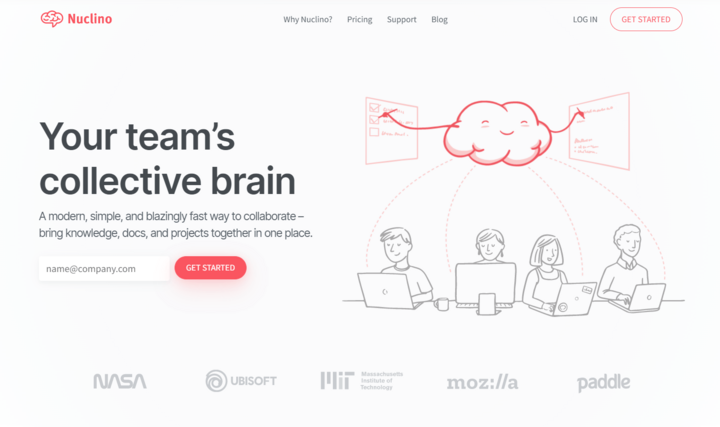 Nuclino is a lightweight agile project management tool distinguished by its streamlined design.
Despite its simplicity, Nuclino offers a range of powerful features. You can create flexible Kanban boards where can manage user stories, epics, and tasks for iterative planning and backlog control.
Each card on the Kanban board acts as a collaborative document, allowing you to keep work in context by documenting sprint goals, requirements, retrospectives, to-do lists, due dates, reminders, files, and more.
Software Features:
Real-time collaboration
Kanban boards
Task assignments
Custom fields for tracking assignees, due dates, tags, and more
Markdown commands
Version history
Quick search with advanced filters
API
Pricing
Free plan
Standard plan – $5/user/month
Premium plan – $10/user/month
Frequently Asked Questions
1. What are the 4 Values of the Agile Manifesto?
The following are the 4 values on which Agile is based.
Individuals and Interactions Over Processes and Tools
Customer Collaboration Over Contract Negotiation
Working Software Over Comprehensive Documentation
Responding to Change Over Following a Plan
2. What are the 12 Principles of Agile?
The following are the 12 principles of Agile development.
Customer satisfaction has to be achieved through rapid and speedy software delivery.
Working software is the primary measure of progress for any project in the Agile paradigm.
Accommodate changing requirements throughout the development process
Agile processes are the ones that are responsible for a consistent pace of the development process
Frequent delivery of working software
Attention to detail and design enhances the agility of the agile development process.
Collaboration between the business stakeholders and developers throughout the project has the utmost importance when it comes to reducing all of the blank spaces regarding information.
Simplicity
Support, trust, and motivate the people involved
Self-organization among the team members is the key factor that encourages great architecture, requirements, and designs.
Enable face-to-face interactions
Regular reflections on different concepts to become more effective is also necessary to keep your team on their toes.
Conclusion
And there you have it, our top picks for the best agile tools for project management in 2023.
We hope this list gave you an insight into all things agile and project management and will help you make an informed decision to pick the best tool for your team.