The world's slow but gradual transition to remote work has shown that there are countless benefits of working remotely, probably even more than working at the office. What's even more shocking is that unlike what is generally believed, remote work is as advantageous for employers as it is for employees.
Industries, all over the world, are gradually shifting to remote work since it gives greater autonomy to employees and helps increase the overall profitability of the organization.
The benefits of working remotely include flexibility and freedom. On top of all these benefits of working remotely, it is also inexpensive and more lucrative.
We will elaborate more on the pros of working remotely in the forthcoming paragraphs.
In this article we will cover:
Benefits of Working Remotely For Employees:
The advantages of remote work for employees are no secret. The list of advantages includes the following:
1. Better Work-Life Balance With Remote Work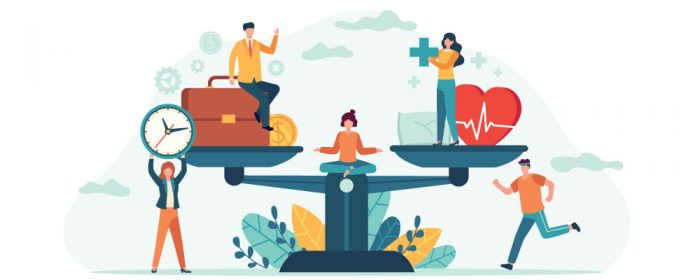 For centuries, employees have worked tirelessly from 9 to 5 at their offices. Sometimes they have even had to work overtime to complete their daily tasks. The rigid work hours and the sheer abundance of workload resulted in an imbalance in work and personal life.
Families have had to suffer on account of the overtime work and the long hours of separation. On top of the disruption in family life, employees also suffered because of the lack of time for themselves. They neglected their personal health for the sake of their work.
The overburdening resulted in lack of sleep, severely disturbed mental health, and inadvertently affected the performance of the employees.
Thankfully, remote work removes all the hiccups. Employees can work on the betterment of their health, improve their performance, and can also maintain a healthy work-life balance.
Moreover, work from home saves commuting time allowing employees to invest the time in their work and save some time for themselves too.
Also, workers can start and end their work at their timings. They do not have to spend a minimum amount of time at the office but are free to spend as much time as the work requires. The amount of time does not matter as long as they get their work done in time.
2. Autonomy in Remote Work
One of the biggest advantages of remote work is the freedom and autonomy it gives to employees. Working at an office restricts employees' freedom and chains them to their desk for 8 whole hours.
The lack of freedom seldom affects the performance of employees. Not only are they restricted to follow a definite timeline, but their creativity is also holed up.
With remote work, employees can adjust their timings according to their own preferences, they also have more freedom to complete their tasks the way they want.
Furthermore, the workers have the freedom to choose their workplace, they can choose to work from the safety of their home or can pick up the essentials and work from a far-off place. They can also clock in anytime they want and leave anytime they want.
The goal of remote work is to let employees enjoy their freedom, all while they stay on track and complete their tasks.
Employees are not only free to choose their workplace at will, no restrictions are imposed on their availability and in-person attendance.
Autonomy and freedom also enhance employees' creativity, allowing them to be imaginative. As a result, they might be able to bring in more creative ideas and contribute to the success of the organization.
3. Health Benefits Of Working Remotely
One of the biggest benefits of working remotely is the betterment of workers' mental and physical health.
The office environment is often stressful and pressuring. The constant tension negatively impacts the health of employees. There are tons of health benefits of working remotely, not only does it help reduce mental stress but is also advantageous for physical health.
Remote work can improve employees' health by giving them the freedom of no commutation, no restricted work hours, no overtime, and no rushes. Statistics have shown that employees spent approximately 100 hours in commutation and 40 hours in traffic every year. In some extreme cases, the commuting hours can extend even longer.
Relaxed working hours allow employees to adjust their time so that they can dedicate some of their time to gym or workouts. In such a way, they can also maintain their health while staying at home.
Work from home provides a peaceful environment for employees, helping them retain their health and stay focused.
4. Improved Performance And Better Productivity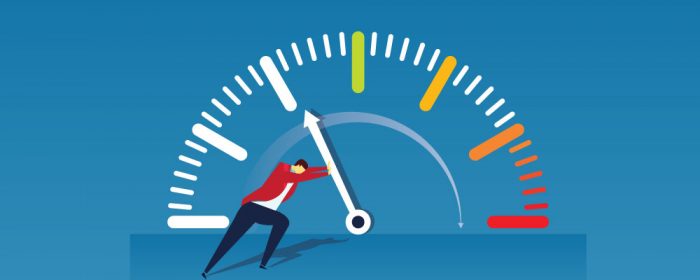 One of the pros of working remotely is the improvement in employees' performance. When working remotely, employees are less prone to long hours of meaningless conversations, wasted hours of commute, and other distractions at work.
Once workers are free from the distraction, they can invest their time and efforts in the work. This in turn helps them stay focused and finish their tasks promptly.
A survey conducted by Flex Jobs shows that 51% of participants feel that their productivity has increased from working remotely. The reasons cited for the enhanced productivity include the following:
Less interruptions/disruptions
More focused working
Peaceful and quiet workplace
No office politics
All these reasons contribute to the improvement of employees' work and increase their work efficiency.
Related:
Pros Of Working Remotely For Employers
Remote work is probably more advantageous for companies than its employees. Let us explore the benefits of working remotely in the following paragraphs.
1. Cost-Effectiveness
We are already aware of the benefits of remote work for employees, but companies are often reluctant to take the step since there are a lot of variables to consider and they are afraid that the move might be disadvantageous for the company.
Remote work, however, proves to be extremely beneficial for the organization in terms of cutting down on financial costs. Companies no longer have to invest thousands of dollars in expensive office rents, bills, and office stationery along with other costs.
It has also been seen that almost 50 to 60% of employees are not working on their desks when in the office. This is a huge waste of resources and finances.
Global Workplace Analytics has stated that an organization can save approximately $11,000 per year for every employee working remotely for at least half of the year.
Companies can also save money spent on organizing meetings, banquets, and official events. Additional cost-cutting on travel expenses can also help save money.
Also, statistics show that work from home can help employers save over $30 billion per day. All in all, remote work helps with the finances of the company and helps reduce extra costs.
2. Diverse Workforce
Another added benefit of working remotely is the inclusion of a diverse workforce. Since employees are no longer chained to their seats, companies can recruit more diverse staff from all over the world.
Remote work gives companies the freedom to hire workers from different geographical locations, socioeconomic strata, and diverse cultural backgrounds. This would have been, otherwise, impossible.
By hiring workers from different backgrounds, companies become more inclusive and diverse. Also, they get representation in different parts of the world and also bring in more creativity from diverse minds in different parts of the world.
Also, remote work gives opportunities to less privileged individuals to follow their career dreams. Individuals with disabilities, caregivers, etc. have more freedom to take up jobs of their choice.
In conclusion, working remotely works in favor of companies and their employees. On one hand, it helps employees take up working opportunities in companies of their choice, on the other hand, it helps companies become more diverse and inclusive.
3. Employee Satisfaction And Retention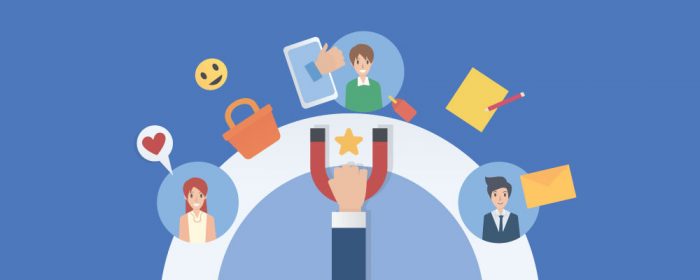 One of the advantages of remote work includes employee satisfaction and retention. Since remote work gives more freedom to employees and is a stress reliever, chances are that the company will be able to retain its employees for a long period of time.
Working at an office puts employees at a disadvantage. Constant surveillance from team leaders and long hours of sitting puts a strain on the healthy and efficient working of the employees.
In contrast, work from home gives employees the freedom to work the way they want. The absence of continuous monitoring takes stress off their minds. A survey conducted by Mom Crops showed that 2 out of 5 employees were willing to give up a percentage of their salaries in return for more freedom and autonomy.
Another study shows that remote workers are 22% happier than people who work on-site regularly.
4. Reduce Stress On Environment
One of the most long-lasting and positive pros of working remotely is its effect on the environment. Organizations can transition to remote work since more than half of the work can be done remotely.
Besides other factors, the ability to work from home has a positive impact on the environment. Employees can help reduce carbon emission by reducing the commutation to and from work. Work from home can reduce up to 54 million tons of greenhouse gases, making the environment more friendly and green.
Environmental consciousness also helps attract more customers. With the ever-growing need for sustainability, consumers are more likely to get fascinated by companies that offer more sustainable working options.
Work from home also means no expenditure in terms of heating, electricity, lighting along with the reduced need for printers, copying machines, etc. In such a way, remote work is an eco-friendly alternative.
Challenges Of Working Remotely
There are tons of benefits of remote working for employers as well as employees. The transition, however, is a challenge for both. So, before you make the move consider the following:
Availability Of A Peaceful Working Environment: One of the biggest challenges of working remotely is the availability of a peaceful workplace. Having a comfortable, distraction-free environment is a first for remote work otherwise it is very likely that the employees will fall victim to constant distractions and will be unable to focus on their work.
Working Hours: Another one of the challenges of working remotely is making sure that your employees are investing their time in the work. Since remote work means they are prone to distractions, it is important to make sure that the employees are giving appropriate time to their tasks and are staying on track.
Lack Of Motivation: In addition to the challenges listed above, lack of motivation can also be a challenge for remote workers. Since employees are not in that grind and are not working in a proper workplace environment, they can quickly become demotivated and lose interest in their work. In such a case, maintaining their interest is necessary to make sure that they accomplish their tasks on time.
Lack Of Communication: In addition, remote work can result in a lack of communication between team leaders and members. The lack of communication can create a huge gap in the expectations and the result. Real-time communication and prompt exchange of feedback are necessary to make sure that the tasks are completed efficiently.
How To Ace Remote Working?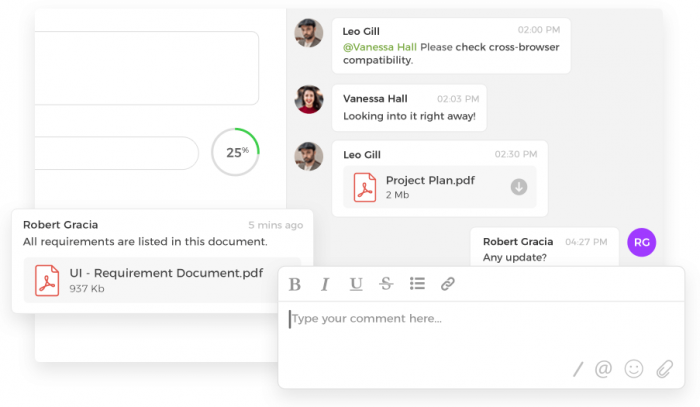 Team Collaboration Feature of nTask
As discussed above, they are certain challenges with remote work. Transitioning from on-site work to remote work requires a lot more than one would think. The employees and employers have to trust the process to make it work.
To ace remote working, you can also take the help of project management software. The use of project management software-such as nTask will help employers keep track of the performance of their employees. On the plus side, with the help of these remote work tools employees will also be able to stay focused and will be able to complete their tasks in time, efficiently.
Some of the most baggable features of nTask include the following:
Task Management
Kanban Boards
Team Management
Time Tracking & Timesheets
Meeting Management
Issue Tracking
Risk Management
The availability of these features makes it easy for employers to keep track of the progress, identify bottlenecks in projects, mitigate risks, visualize the performance of their employees, and efficiently manage the team without any hiccups. It also brings more clarity and transparency to the workspace.
Take help from nTask now and give yourself a break from all the stress of managing work remotely.
Try The Best Remote Working Tool, nTask.

Manage all your tasks, projects, collaboration, resources and more in one place. Sign up today!
Happy nTasking!