If you're thinking about using Backlog, you should also look at similar options or alternatives to get the ideal solution.
Project Management Software is a popular technology, and many people are looking for sophisticated, secure software solutions that incorporate dependencies, resource allocation, and repeating activities.
Task management and user interface are also significant elements to consider when investigating Backlog solutions.
We've collected a list of Backlog alternatives and competitors that reviewers voted on, including nTask, Jira, Monday.com, ClickUp, and Asana.
What is Backlog (by Nulab)?
A project management tool for prioritizing and monitoring tasks is called Backlog (from Nulab).
First of all, you won't be utilizing this program just for managing the product backlog for Agile projects; it is more than simply backlog software. Backlog is a powerful collaboration tool for teams that just so happens to go by that name.
Backlog is a simple tool to use once you get going. I downloaded the software to my iPad and was able to use it right away.
The interface has a neat appearance and is simple to use.
Second, you can only create "problems," not tasks. Don't worry too much about it as "task" is a form of difficulty and you can get around it.
Simply being familiar with the vocabulary won't take long, especially in technical teams where discussing "problems" will likely dominate conversation.
It includes tools for version management and combining code snippets, as well as a diff checker.
However, with no time-tracking widget or integration option for an accounting software, non-programmers may think it falls a bit short of what other project management applications provide.
How does it work?
Backlog by nulab can be used to manage projects from beginning to end, and it includes features such as a Gantt chart, resource management, and task management.
It also has a built-in communication system that allows users to easily share information between different parts of the project.
In contrast to more general work, some project management tools are obviously made with programming work in mind. One of them is the backlog. Issues are what you may typically think of as tasks.
Tasks, bugs, requests, and more categories are available for classifying issues. Someone who considers it necessary to distinguish between a request and a problem, in my opinion, has a coder mindset.
Backlog could thus be more suited to coding initiatives than projects of all kinds. Redmine, for what it's worth, is comparable in this way.
Who is it for?
Backlog by nulab is perfect for small businesses and teams who need an efficient way to manage their projects. It is also great for projects that have multiple stakeholders, as it allows them to keep track of all the changes that are happening throughout the process.
If you are looking for a reliable and user-friendly project management tool, then you should definitely check out the backlog by nulab. It is sure to help you get your projects off the ground quickly and smoothly.
Disadvantages of using Backlog
There are a few disadvantages to having a backlog of work.
First, it can lead to feeling overwhelmed and stressed out. You may not be able to focus on your current tasks, and you may even become resentful towards the project.
Second, when there is a backlog, it's difficult to make any significant progress because you're constantly waiting for pieces of the puzzle to fall into place.
Finally, if the project has been side lined due to a long-standing backlog, it can put your career in jeopardy or damage your relationship with clients or colleagues.
Top 12 Backlog Alternatives 
Here are the top-notch 12 backlog alternatives to consider;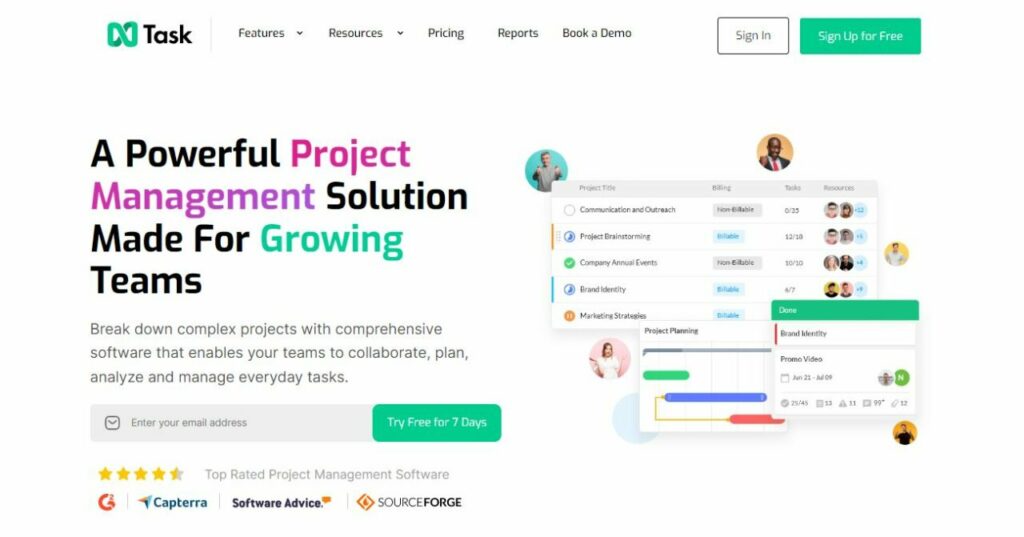 Nulab is a popular task management tool that can be used to manage tasks and projects. However, many people find it difficult to use because of its complex interface. here, we will discuss the Backlog (by nulab) alternative – nTask.
nTask is a cloud-based application that helps users manage their work and tasks by categorizing them into projects, streams, roles, and goals.
It also offers features such as time tracking, project forecasting, team collaboration, quality control metrics, email notification support and more. 
nTask makes it easy to keep track of what needs to be done and when it needs to be done. You can also delegate tasks so others on your team can take care of them while you focus on other priorities.
And if something goes wrong with one of the assignments – no problem! Just reassign the task as needed so everyone continues working smoothly together. 
2. Redmine

Redmine is an open-source project management software that can be used by both large and small organizations. It's fast, easy to use, and has a lot of features designed specifically for project managers.
This software is a very good alternative to Backlog (by nulab).
It has an ample feature set that can be tailored to meet your specific needs. For example, you can add custom fields and labels to items so you can easily find them later on in the application.
You can track your work hours easily with Redmine's time-tracking feature, which allows you to see how much time you have spent on each task.
This information is helpful in determining which tasks are taking longer than expected or if there are any areas where additional resources might be needed.
3. Jira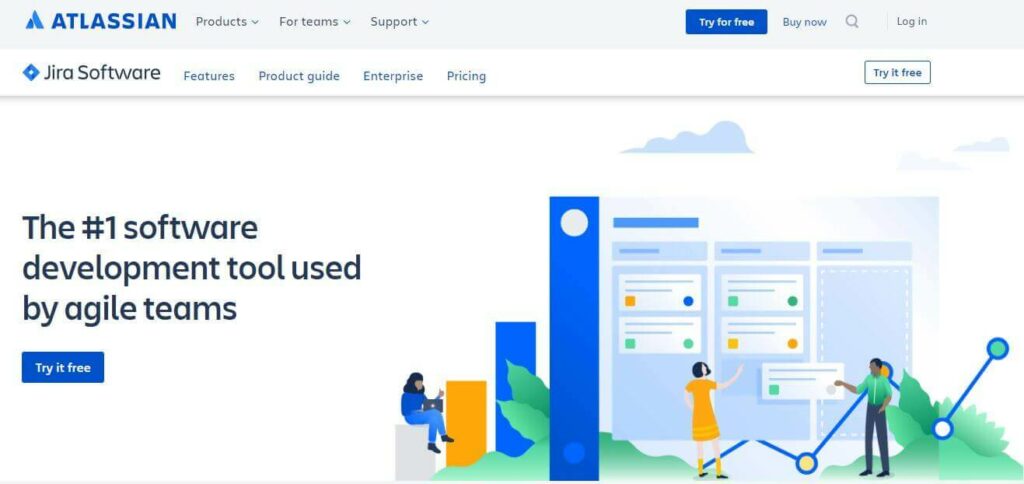 Jira is a project management tool that many businesses use to manage their backlog. It's popular for a reason – it works well and has many features that make it an excellent choice for managing projects.
You might like Backlog but sometimes it isn't the best solution for managing your workload. In those cases, you may want to consider using another backlog alternative, Jira is the best option.
Jira is a great tool for managing projects and tasks. It allows teams to collaborate easily, manage communication, and track progress. Jira also has many features that make it an ideal platform for content marketing.
In this article, we will take a look at some of the benefits of using Jira for content marketing purposes. 
First and foremost, Jira is perfect for tracking project status and progress. This information can be used to create effective strategy plans and track milestones along the way.
4. Bitbucket

Bitbucket is a free, open source code management and revision control system used by millions of developers. It's perfect for anyone who wants to manage their work online, without having to install software on their computer.
You can use Bitbucket to create projects, add collaborators, assign tasks, and track changes.
BitBucket can be a great alternative to Backlog in many ways. It includes built-in features like versioning and git hooks that make it easy to work with common development tools like Git and SVN.
Plus, the community Forums are full of helpful users who can answer any questions you may have!
5. Monday.com

monday.com is a no-code platform for work administration that helps in improving team project and workflow management. Unlike Backlog, this software offers fully customizable solutions for a variety of use-cases, including marketing, sales, operations, IT, HR, and many more.
With the support of time-saving and simple-to-use tools like automations, time tracking, document sharing, real-time collaboration, and more, you can effortlessly plan, manage, and monitor any project with Monday.com.
Dashboards provide a high-level overview of your progress and assist you in making data-driven choices.
Multiple visual board layouts, such as Gantt, Kanban, and Cards, allow you prioritize, manage, and traverse tasks and projects in a way that best matches your requirements and those of your team.
Additionally, you can easily carry on using your preferred tools within the platform thanks to interfaces with programs like Outlook, Microsoft Teams, Gmail, and Excel.
Additionally, Monday.com provides specialized products, such as Monday Dev and Monday Sales CRM, to meet the need of particular businesses.
6. ClickUp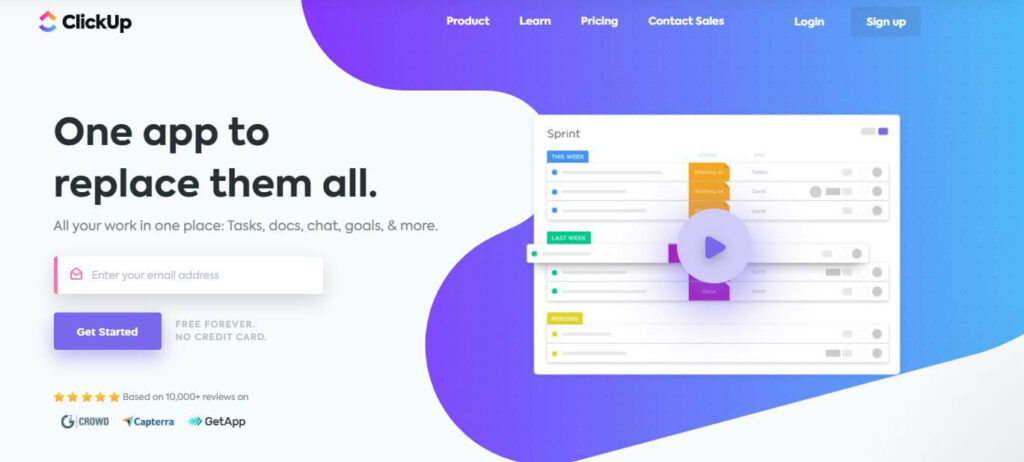 ClickUp is an all-in-one job management program that can be used instead of various apps. Users may manage tasks and projects, collaborate with colleagues, and establish organizational goals.
Users can select from a variety of perspectives, including list, board, Gantt, and calendar views. They can examine embedded code, create wikis and knowledge bases, and monitor activity through a feed.
ClickUp is adaptable, allowing users to select the features they require. They can automate tasks, assign sprint points, add custom fields, and select from hundreds of templates.
It provides automation features, bug tracking intake forms, agile dashboards, and native Git connectors.
7. Asana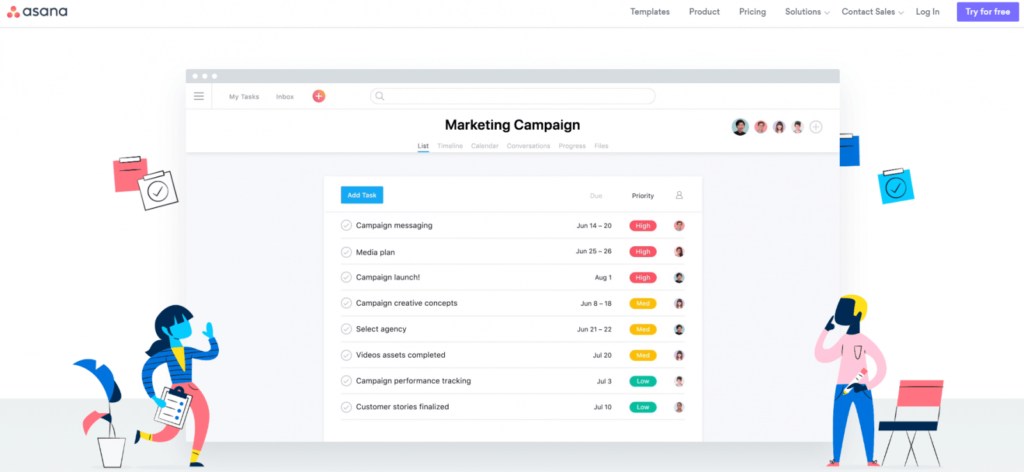 Asana is an online project management and task management tool. It gives several work views so that teams and individuals may see things from diverse angles, look at the information that is relevant to them, and interact swiftly no matter where they are.
Automation facilitates the management of routine tasks by allowing teams to acquire project clarity and context, define rules to automate typical operations, and use forms to standardize work requests.
Asana comes with pre-made templates that users may alter and fine-tune. Tasks and subtasks, milestones, dependencies, due dates and times, approvals, and custom fields are among the project management capabilities.
The software includes a number of reports for viewing objectives, workload, portfolios, and dashboards. It also includes texting, mobile apps, and interfaces with other third-party technologies.
8. Wrike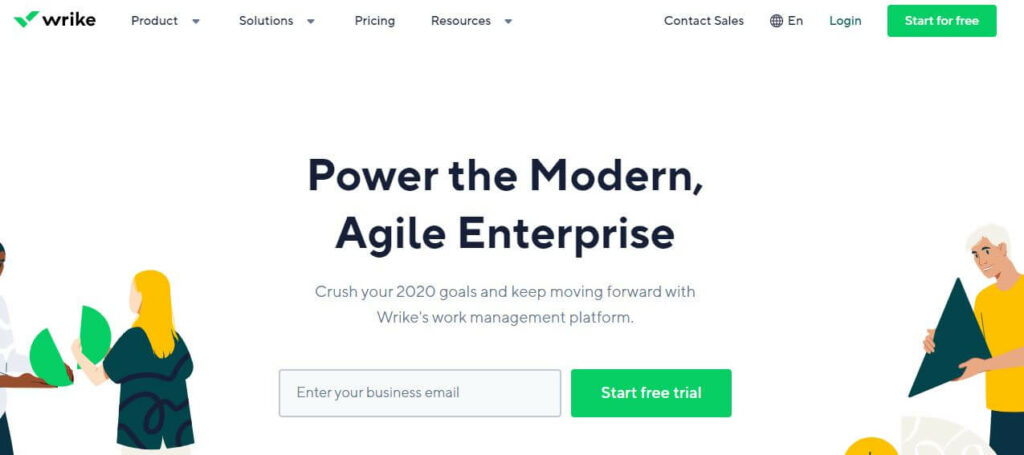 Wrike is a powerful work and project management application. It is adaptable, allowing different teams and businesses to employ the tools and features that best suit their needs.
It operates in real time, allowing users to write comments, send notifications, collaborate on editing, and generate dynamic reports with timely valuable information.
Wrike's automation, collaboration, and reporting capabilities enable users to constantly improve ideas and products.
With asset attachment, shared team calendars, visual workload view, and advanced file and document search, agile teams may improve their software development.
It also provides powerful issue tracking capabilities such as performance dashboards, rapid notifications, report templates, and task monitoring.
9. Teamwork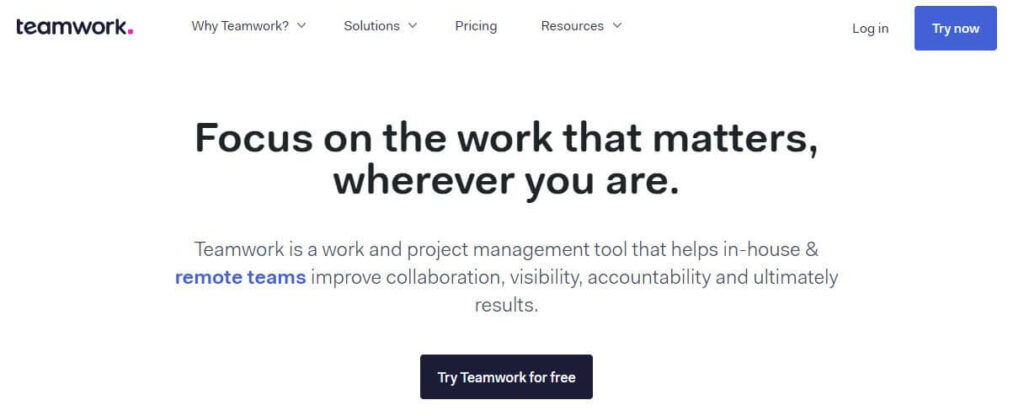 Teamwork is project and team management software designed specifically for client business. Users can use it to manage projects, clients, and various types of teams. It allows businesses to keep track of their budgets and billable time.
The software is adaptable and extensible, with several add-ons and integrations for a complete corporate solution.
Teamwork contains tools for maximizing resources as well as reports that provide an overview of projects at each level. Workflows that can be customized can enable waterfall, agile, and custom processes.
Tasks and subtasks, milestones, a calendar, and communications are among the features. File management, versioning, notebooks, custom fields, dashboards, various work views, mobile apps, and automation are also included.
10. Trello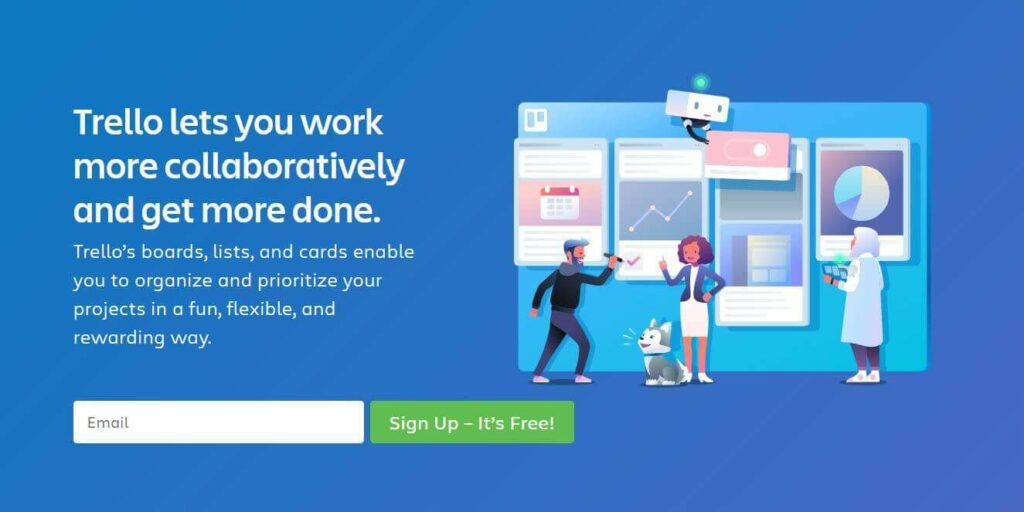 Trello is a collaborative program that may be used to manage projects, track issues, and boost productivity. Its primary user interface is a board that can represent either a project or a team.
Custom lists can be created by users as stages in a workflow or for other forms of grouping. Cards can be added to each list to contain tasks, information, due dates, checklists, chats, and attachments.
Users can drag and drop cards from one list to another or automate the flow with rules and triggers.
Trello is a highly visual collaboration software that now includes additional work views like timelines, calendars, tables, and dashboards. It includes automation that aids in the reduction of repetitive chores such as shifting cards, displaying reminders, scheduling teammates, and streamlining operations.
It also features Power-Ups, which are integrations with other applications that improve the functionality of a user's board.
11. GitLab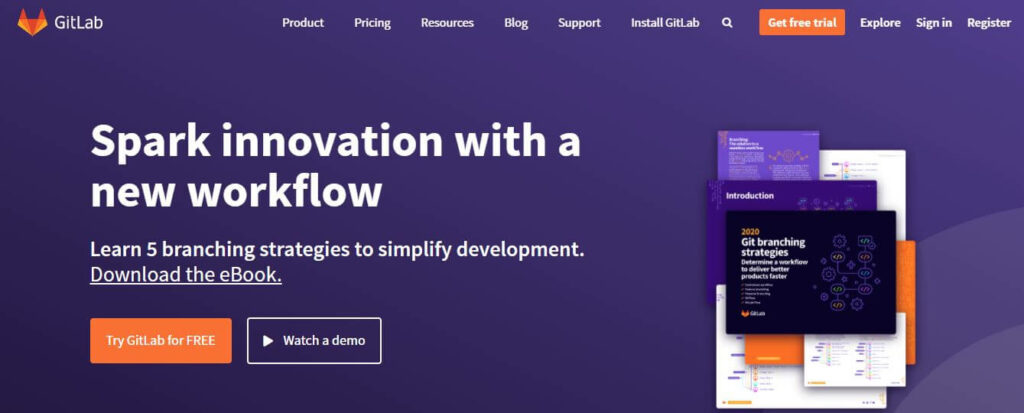 Gitlab is a platform that allows you to manage and deploy your code with the help of a team of developers. It offers several features such as code collaboration, version control, and continuous integration. Gitlab is also free for open source projects.
GitLab also allows you to collaboratively work on projects with other team members. You can create team members, assign roles and permissions, and manage dependencies between teams and repositories.
12. GitHub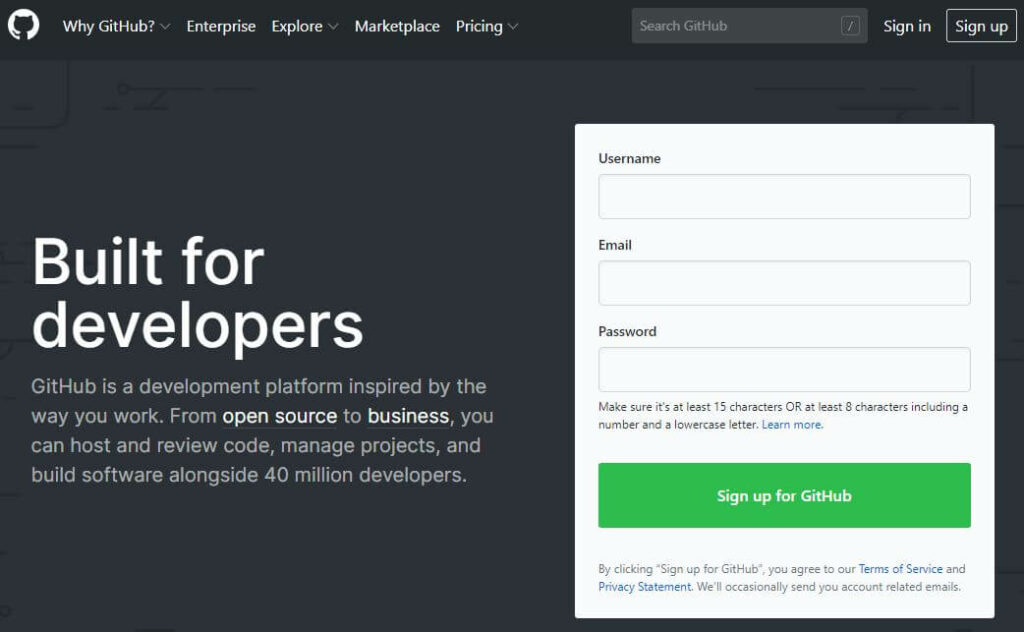 GitHub is a website and software development platform where you can host and share code, manage projects, and build software with others. It's commonly used by developers to store their code, review and collaborate on code, and build software together.
When you use GitHub, you can easily keep track of all the changes made to your code (both local and remote), as well as what has been added by other developers.
This makes it easy to work with others on projects, review code before writing new lines of code, and find information quickly when needed.
Additionally, using Git allows you to version control your files so that you always have a history in case something goes wrong.
Conclusion
Backlog, a project management software, enables software development teams to get a clear vision and consistent advice as they develop software products. Every stakeholder is informed of the project's schedule, activities, status, and progress.
Users looking for a Backlog alternative can start their search using our recommended alternatives.