Taking a deep dive into Asana vs Monday vs nTask was a challenging endeavor. However, for the sake of all the project management aficionados out there, we felt that this analysis was overdue. It's about time to comb through the carpet and see which tool we're rooting for.
Just in case you think that we'd recommend nTask for the sake of self-promotion, you couldn't be wrong! While it's true that when it comes to Asana vs Monday, nTask tends to blow the competition out of the water, there's one tool among the three that is worth checking out.
Asana Vs Monday | How Does It Fit In Against nTask Manager?
During these trying times, especially with the ongoing global COVID-19 pandemic, one thing remains firm: organizations love project management software. Today blue-chip conglomerates and non-profits look to recruit the best project management software product to stay competitive.
In this article, we will be exploring the key features of each application as well as pricing structure so that you can make the right decision when buying your next project management software. To do so, here's some detailed insight on each aspect of our Asana vs Monday vs nTask analogy.
Table of Contents
What is Monday.com?

Monday.com is a visual team management app that enables teams to quickly add team members, customize workflow, assign tasks, and track the progress of work. Monday promotes transparency so that your team does not have to face surprises on a task completion date.
The app also supports collaboration which helps boost productivity among individuals and teams. You can utilize Monday to manage all your task and projects. Monday.com is a cloud-based work operating system offering a simple way to manage teams and projects while creating transparency.
According to Harvard Business Review, teams are much more engaged and productive when there is transparency from managers.
You Can Use Monday.Com for a Variety of Tasks…
The great thing about Monday.com is that it is not limited to just facilitating project management.
You also use Monday.com for:
Marketing Campaigns
Design Planning
Roadmaps for Product
Tracking progress for projects
Event Management
Bug Tracking
… and that list is long. For a full length of all the juicy features that Monday has to offer, you can log on to their official website. More than 100,000 teams in diverse sectors around the world rely on monday.com, from companies like Wix.com to small businesses.
Fun Fact: Monday was formerly known as DaPulse. Just in case someone comes up to you and confesses their love for DaPulse project manager, he is in fact referring to Monday.Com.
What is Asana?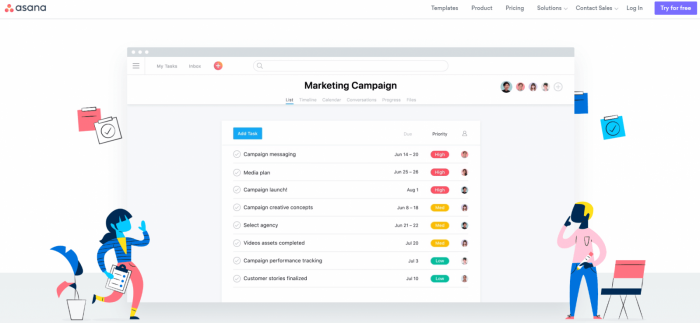 Asana is a mobile and Web OS based application designed to help teams track, organize, and manage work. On that note, it is a software-as-a-service (SaaS) that helps teams manage tasks and projects in one tool.
It was created in 2008 by Facebook co-founder: Dustin Moskovitz after he saw a requirement to coordinate teams more effectively inside the social network's processes. Teams can create projects, specify deadlines, assign work to teammates, and communicate about tasks directly in Asana.
Additional tools and features include file attachments, reporting tools, and calendars. The application is used by over 25,000 paying customers, including companies from different sectors, from Spotify to Uber and Airbnb.
How Does Asana Work?
The cloud-based software allows peers and colleagues within an organization's Asana workspace to manage and track the progress of projects. For example, a social media marketing team can set up workflows to manage the content calendar.
At a more micro level, "tasks" are created to monitor individual components of a wider project. Asana's dashboard facilitates a high-level view of all work underway – allowing subscription holders to track progress as tasks are completed in a project.
Has your team been relying on a diverse set of tools like spreadsheets, email, and file sharing? Asana will in such cases benefit your team. Asana is relatively easy to use when compared to complex project management tools like Smartsheet and Trello.
Asana keeps an eye on project management rivals and even mimics some of the features it offers. For example, in 2018 Asana added a feature that imitates Trello's core functionality with the introduction of Kanban-style projects.
Speaking of Kanban boards, it allows you to split tasks out into different categories, which can come in handy if tasks need to be split into different priority levels. Additionally, Asana offers over 100 integrations to keep you from spending so much time switching back and forth between all the different apps you use.
Overall, Asana is a project management tool, and many teams see increased productivity once they use it.
What is nTask Manager?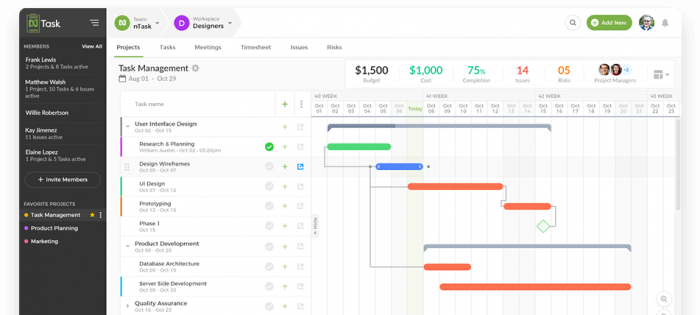 nTask is your go-to tool for project management used by professionals and teams. With nTask, making checklists, scheduling meetings, collaborating with project teams and more becomes easier than ever. What differentiates nTask vs Asana vs Monday is the fact that it brings together all the tools needed for small and large teams to collaborate on projects.
Built for Agile teams, nTask lets you assign and create tasks for your team, submit and receive daily timesheets, and more. Your team can keep you updated regarding the exact number of hours worked and submit time entry stamps against tasks so that you know with precision where exactly your team spent its time on.
For monitoring and reporting, we've made project management a piece of cake. nTask has Gantt charts that are beautifully designed for everyone to easily comprehend. The program also provides the capability to export projects and tasks in PDF and CSV.
In addition, nTask comes with meeting management – letting you create meetings and invite team members directly through their email, jot down key meeting decisions and submit them later for review.
If you have the requirement to share details regarding a task with someone outside your team or workspace – Use the publish link feature in nTask and share details of your task publicly.
That's not all! This app is stuffed to the brim as far as features are concerned. Most of these features were not there in the initial version of the program. We worked hard to collaborate with customers to include user-requested features as part of the major nTask 2.0 update. It was released some time back and has received warm welcome from the entire project management community worldwide since then.
nTask comes with Risk and Issue tracking for projects – now your team can document all risks and issues & keep everyone on your team up to date. The software is available as a web-based app as well as on Android and iOS. Furthermore, from our intel, we're told nTask will be available as a desktop version as well within the next month.
nTask 2.0 update is in a class of its own as it works on a hierarchical project management flow basis.
Connecting nTask to your favorite applications has become easier since the original version of the app was launched years ago. We're already providing users with the capability of Slack integration – with the help of Zapier, you will be able to automate, manage, sync, and import data from more than 1000 applications.
Table Comparison – Asana vs Monday vs nTask
Asana
Monday
nTask

G2 Rating
4.3
4.5
4.3
Works Best for
Small Businesses, Medium Sized Corporations
Medium-Sized Businesses
SME's, Large Corporates
Project Management Features
Gantt Charts

No

Yes

Yes

Time Tracking

No

Yes

Yes

Risk Management

No

Yes

Yes

Issue Management

No

No

Yes

Meeting Management

Yes

Yes

Yes

Timeline

Yes

Yes

Yes

Time Estimates

No

Yes

Yes

Recurring Tasks

No

Yes

Yes

Color Labeling

No

Yes

Yes

Save Custom Filters

No

No

Yes

Slash Commands

Yes

Yes

Yes

Meeting Attendance

No

Yes

Yes

Timesheet Approval

No

Yes

Yes

Export Tasks & Projects

Yes

Yes

Yes
It's a Tough Bargain | But Here's What We Think
In terms of features, Monday has a lot to offer. Don't get it wrong; Asana is awesome and so is nTask. But at the same time, your tool of preference should depend on careful evaluation. We know for a fact that Asana has about a bazillion users out there right now. Project managers use it in varying capacities.
Likewise, nTask Manager and Monday are maintaining a strong foothold in the market. Of course, our first recommendation will always be nTask – i.e. if scalability of projects, speed, and pricing is your first and foremost concern. The latter is super important because nTask was developed for not only up and coming businesses, but also your average Joe who wishes to use an awesome project management tool without hitting a big price tag.
Moving on, Monday is a game-changer because we resonated with its concept more or less. Aside from nTask, Monday would be our next best recommendation. You can try the tools in whichever order you like. Our only request is to evaluate the programs against your company/ personal projects' requirements before doling out any amount of cash.
Often times, failure to evaluate project management tools tends to create misguided hype about them. You may have heard about how sometimes Jira gets heated feedback from users. It is an awesome tool that goes up on its toes against Asana vs Monday. However, Jira is not for everyone. Just because a company rep recommends it, shouldn't be the reason to incorporate any task manager across the entire IT board. What do you think?
In all fairness, feel free to try out all of these amazing tools and then take your pick. Just in case you are not leaning on either of the tools among our Asana vs Monday vs nTask, we would like to hear about your choice. Feel free to fill us in on your input through the comments section below.