As the project manager in a small business or start-up, you're undoubtedly familiar with at least one of these project management tools: Asana vs Jira or nTask – the best of all. But which one is best for your next project? This blog aims to help you make that decision by comparing and contrasting the features of these tools.
In addition to this, we'll also discuss the pros and cons of using each tool for different project types. So whether you're looking for an all-around project management tool or just want to try out a new one, read on to find the right tool for your project!
What are Project Management Tools?
Project management tools are essential for any business that wants to successfully manage and track its projects. They help you keep track of progress, environmental factors, resources, and deadlines.
There are a variety of different project management tools available on the market today, but the most popular ones include nTask vs Asana vs Jira work management. These tools allow you to create a timeline, assign tasks and resources, track progress and expenses, and generate reports that show how your project is performing overall.
While project management tools are essential for businesses of all sizes, they may be especially useful for smaller businesses that don't have the manpower or resources to manage their own projects effectively. By using these tools, these businesses can easily keep tabs on their projects and ensure that they're on schedule and within budget.
How do PM tools work?
It can be tough to choose the right project management tool for your next project. That's why we've put together a guide that will help you make a decision. Asana is a popular platform that allows you to organize your projects and track deadlines. It also has issue-tracking capabilities, so you can trace problems throughout the development process.
Jira is known for its ability to track project issues and timelines, as well as its team collaboration features. nTask is a great option if you're looking for task management capabilities. It allows you to easily assign and manage tasks with co-workers or team members. This makes it easier for everyone to get their tasks done on time and as planned. So which one is right for you? We hope that our guide has helped.
Comparing Asana vs Jira vs nTask
No project is complete without proper task management. Thankfully, there are three great options available on the market: Asana vs Jira vs nTask. It can be hard to decide which one to choose, so here are a few key factors to consider: team size, features required, and price point. Once you've decided on a tool, make sure to train everyone on how to use it!
nTask: Best All-Around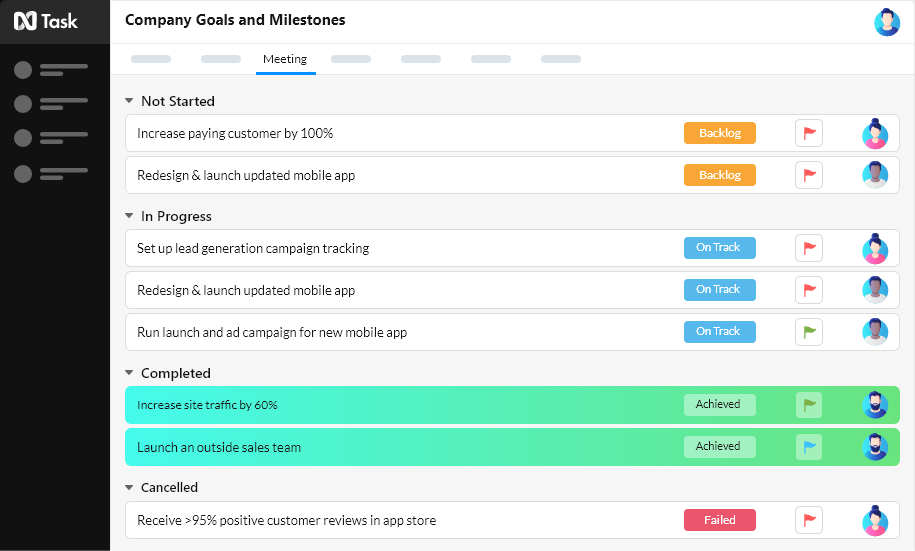 There's a project management tool for every need – and nTask is the perfect solution for small businesses and startups. It's affordable, easy to use, and has a wide range of features that make it perfect for small businesses and startups.
If you have more complex needs, Jira is a great option – but it can be more expensive and upstarts may find it too costly or difficult to adopt initially. Asana offers an overwhelming amount of options and capabilities, but some users report difficulty adapting to its interface or finding support from the company itself.
That's why it's important to consider customer service and customizability as key factors when choosing between Asana vs Jira and nTask. The mobile app and user-friendly interface make nTask the clear winner in this comparison.
At nTask, we firmly believe that there is no one-size-fits-all solution for workplace productivity. That's why we offer a variety of different tools and platforms, each with its own unique benefits.
One of our most popular tools is nTask, which is better than asana and Jira in a number of ways:
nTask is more user-friendly: It's easier to find what you're looking for and navigate through the interface. It's also more intuitive, making it easy to get started with and use.
nTask is more customizable: You can create and manage your tasks and add notes or attachments to them, making it easy to capture all the details about your work. And you can easily share tasks with co-workers or managers so that everyone has a copy.
nTask is more efficient: It automatically organizes your tasks into bundles based on their priority, making it easier to focus on what's important. Plus, it can schedule tasks for later in the day or week so that they'll be completed as soon as possible.
nTask is more reliable: It has a higher customer satisfaction rate than asana and Jira, due in part to its reliability and ease of use.
Asana: Best for Start-Ups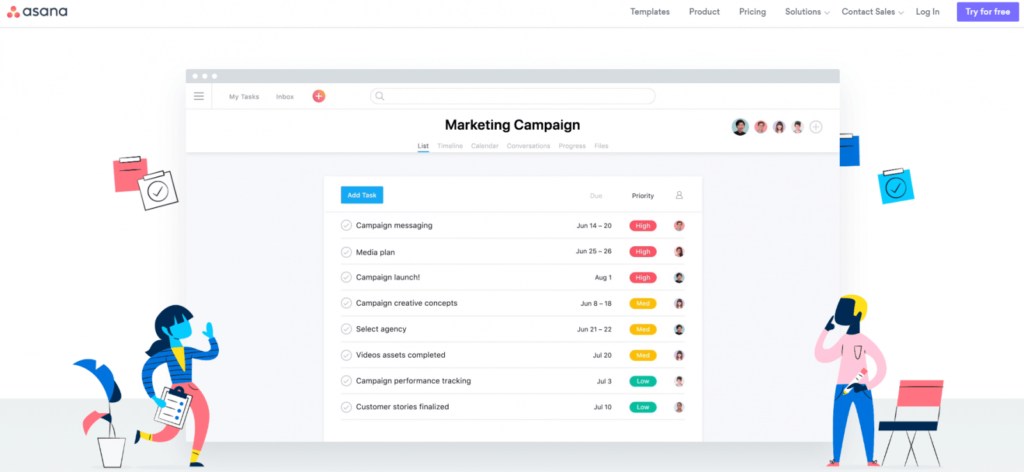 Choosing the right project management tool can be a daunting task. Asana is a cloud-based project management software that's been praised for its simplicity and ease of use. It integrates with other tools to make managing projects and tasks easy, and it has a wide range of features to help you manage your work more efficiently.
Some of the features that make Asana a great choice for start-ups include its ability to track time and resources equally well as tasks, its integration with Trello and Basecamp, and its focus on collaboration between team members.
Overall, Asana is a great tool for managing projects from start to finish. It's simple to use and easy to integrate with other tools, making it perfect for small businesses and start-ups who want to keep their workflow streamlined and efficient.
If you're a start-up, asana is the perfect tool for you. It's a cloud-based project management software that lets you collaborate with your team members easily and track your progress in real-time. Asana also has some great features that are specifically designed to help start-ups succeed. For example, it has an intuitive drag-and-drop interface that makes organization and collaboration easy. You can also set up a custom work structure to optimize your workflow for different stages of your project.
In addition to its great features, asana offers a low monthly cost for users who sign up for its premium plans. This means that you can get all the benefits of the software without spending too much money.
So, is asana better than Jira?
In short, Asana is better than Jira for a few reasons. First, Asana is more user-friendly and intuitive. It makes it easier for people to get started and track their progress throughout the day. Second, Asana allows you to create projects and tasks with greater flexibility and control.
This allows you to get more out of your work by dividing it into specific, manageable tasks. Third, Asana provides real-time updates on project progress so you can stay focused and organized. And finally, Asana integrates with other applications so you can keep track of your work across multiple platforms.
Related:
The 33 Best Free Asana Alternatives
Jira: Best of Enterprise Businesses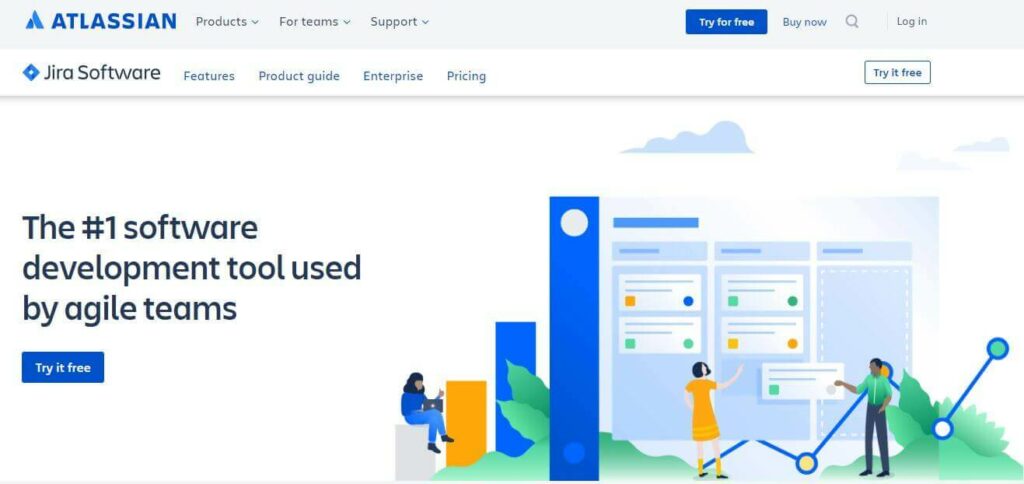 Jira is a great choice for enterprise businesses because it's user-friendly, versatile, and reliable. It has been used by companies of all sizes to manage everything from small projects to large enterprises.
Some of the features that make Jira so great include its integrated project management tools, a suite of reporting and analytical tools, integrations with various other software packages, and its easy-to-use interface. In addition, it's highly customizable and can be adapted to match the needs of any business.
Jira is also backed by a team of experienced professionals who are available 24/7 to help you get the most out of it. They're available via phone, chat, or email, so you can always get in touch with them if you need help.
When it comes to project management software, there are a few options that are worth considering. Jira is the best of the bunch for enterprises with large teams and complex requirements. It offers features like milestone tracking, hierarchical task management, and rolling updates to keep your team coordinated and on track. nTask can help you manage smaller tasks within your project with its drag-and-drop interface. Asana is great for solo work or small teams; it has an easy-to-use interface and focuses more on collaboration than managing tasks alone.
All-in-all, in Asana vs Jira, Jira is a project management software that's better than Asana in several ways. For one, it has a wider range of features for project management, including issues tracking, agile planning, time tracking, and more. Additionally, it's easier to use and has a more intuitive user interface. Jira also offers integrations with other toolsets, so you can easily share information between different parts of your team.
Overall, Jira is a better option if you're looking for an advanced project management solution that'll help you manage your projects more efficiently.
Also, see:
Top 29 Jira Alternatives for Smarter Project Management
Conclusion
After reading this blog, you will be better equipped to choose the right project management tool for your next project. In this blog, we have compared Asana vs Jira work management and nTask based on their features, and workflows. Ultimately, the decision of which tool to choose comes down to your specific project needs. However, by understanding the key differences between each tool, you will be in a much better position to make an informed decision.
So, what are you waiting for? Start using one of these project management tools today and see the difference for yourself!
---
More Resources: