In this article, Fred Wilson explores the key win themes of Asana Project Management and how it boosts productivity in 2021.
If you are familiar with task or project management software then you must have an idea about Asana. It is simply one of the most popular project management software that allows you to organize, plan, and share your work with the team.
Statistical analysis of the application shows that recently the software raised more than $75 million from various investment firms in order to expand their business and services overseas. It has about 30,000 paying clients with more and more coming in rapidly so that investment is well deserved.
But what if this fame of Asana project management is all hype and nothing more?
The rapidly increasing fame of Asana is due to the software's performance but also due to the fact that the fundraising money came from big founders from reputable tech companies.
The company was founded in 2008 by Dustin Moskovitz who was one of the founders of Facebook and Justin Rosenstein who was an early employee at Google.
So we now know when the software was founded and how fast its business is growing. Now let's see how does the software work and what are the benefits associated with the software.
What is Asana Project Management?
Asana is a project management tool that everyone has been talking about for the past decade or so.
It is a great tool to manage even the most complex and large projects.
It's a platform that provides the necessary tool kit for professionals to come together and collaborate on one project management platform.
So what is Asana and how will it help you?
Asana positions itself as a project management tool that can aid the method of replacing a ton of emails, spreadsheets, and sticky notes with a far more encompassing solution with everything you need in one organized place.
Its presentation is flexible; allowing you to work in a manner that suits you the most either in Kanban boards, Gantt charts or checklist format.
Asana can be used to track daily tasks and responsibilities or track the progress of a project.
Asana project management: How does it work?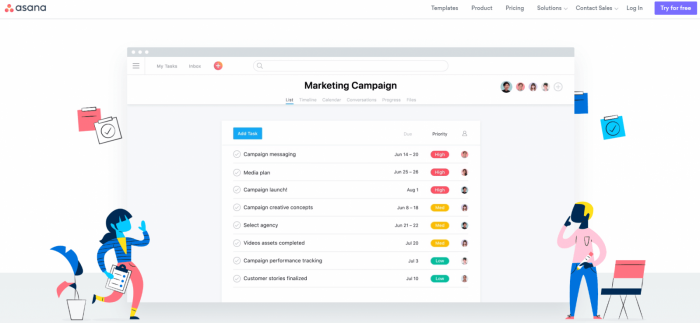 When you use the asana project management software, all of the business units or other different entities of the company are separated into various teams. All of the projects associated with the organizations are located inside the team's module and all of the tasks being worked on get allocated to their respective projects.
Asana also provides you the ability to create different sections that give you a separation among the different levels of the organization. There are filters available to highlight the different development phases of tasks.
For example, if the task is under review and is getting reviewed by the quality team, you can create a section highlighted 'Under Review', that will let the rest of the team know that this task is not ready to be released to the client.
Using Asana, the project managers can organize all of the project data and information into a single place. This will help save time that would have been wasted making emails, spreadsheets, and sticky notes. Among different other options, Asana is the easiest to use and the breeziest to learn.
Asana for project management is an incredible application that can be integrated with over 100 applications. Not every software has this many applications in its embedding directory. So, it is an amazing choice for managers and teams alike who are using a handful of tools already.
There is a smart inbox embedded in the software that shows you all of the notifications regarding tasks and messages from your team. This will update you about all of the tasks being done by the team. You can also view all of this in a calendar view.
With Asana, you can have the power to work faster on challenging goals.
Workspaces in Asana Project Management: These are shared work areas for users to collaborate on tasks and projects. These are the foundation and building blocks on the tool. For different teams and clients, you can create different workspaces for each.
Projects in Asana Project Management: Next to your workspaces are spaces where you can populate one or multiple projects. You can color-code your projects and have different filters in the projects areas: tags, assigned people and priority
 Tasks in Asana Project Management: In simple words, tasks are another term for to-do lists. You can create tasks keeping work balanced.
Asana Pricing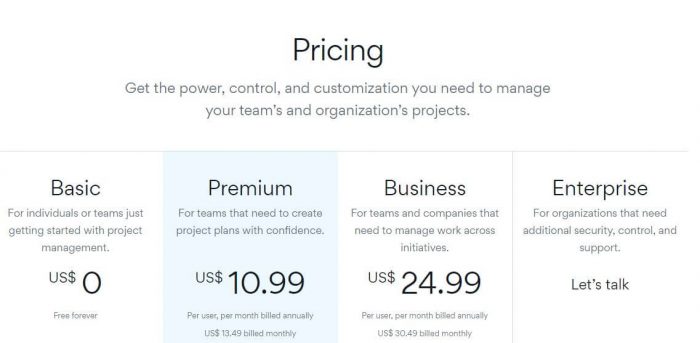 There are 3 versions of this software that you can work with.
Free: This version allows you to get basic searches, archives, and tasks done makes this version a very basic to-do list that can be used by no more than 15 team members
Premium: In this version, you get some advanced features like start and end dates assigned to the tasks, unlimited dashboards, reporting, and adding unlimited members to the team for $10.99 per user per month (if paid annually)
Business: This version is suitable for big companies and corporate teams to manage multiple projects. This plan is billed at $24.99 per user per month (if paid annually)
Enterprise: If you want to take your project management game to the next level, Asana provides you features like SAML support, priority support, and way better data security in addition to data archiving
What are the Benefits of using Asana?
Discussed below are some of the benefits of using this amazing software. Let's dive right in.
Beautiful Interface: With multiple improvements over the last years, Asana has the most distinguished and beautifully interactive interfaces in the market right now
Amazing Application for Small Teams: If you have a team of 3 to 5 members, this software will provide the most detailed insight into each other's tasks and projects
Efficient Prioritization: Asana provides you with an easy-to-use prioritization feature that marks the tasks you want to be done quickly as a top priority which will let your team know about the tasks they need to complete right away
Simple to-do list: The software consists of some very advanced features but if you and your team want a simple software that becomes a simple to-do list maker then Asana is the perfect choice for you with clear-cut tasks and an interactive drag-and-drop interface
Calendar View: The application also features a calendar view that will let you analyze all of the projects and their related tasks according to their associated dates
Some other benefits of this software are:
It has an amazing in-app guidance feature that walks you through the whole starting process via a fun tutorial all the way to the most advanced tasks
Using Asana is very easy and intuitive even if you are a beginner and don't want to go through the whole tutorial
Based on catering to small teams, the pricing packages of this software are pretty affordable
You can share data with many third-party services
Security protocols are extremely powerful, so you don't have to worry about someone tampering with your data.
Check out the Best Asana Alternatives:
The 15 Best Free Asana Alternatives of 2022
Asana's Impact on Businesses
Just a quick insight into how Asana has helped businesses to thrive.
According to Forrester Consulting Co., the app has reportedly enabled organizations to do more without using extra resources. Some of the key highlights of those benefits are appended below:
1. Company owners noticed an exponential increase in employee productivity.
Part of this productivity is attributed to how Asana can be used to break-down multiple tasks into simplified objectives. This way, employees don't feel overwhelmed when they get to work.
Secondly, to get maximum productivity, the company needs to adopt a culture that harnesses encouragement and growth. Did someone come with a new idea for improved, and yet, simpler workflow process? Alright, let's hear it.
2. Reduced cost on hiring program and project managers.
Thanks to a nifty set of features, business owners didn't have to spend extra cash on retaining separate project managers for simultaneous projects and programs alike.
3. Reduced project delays.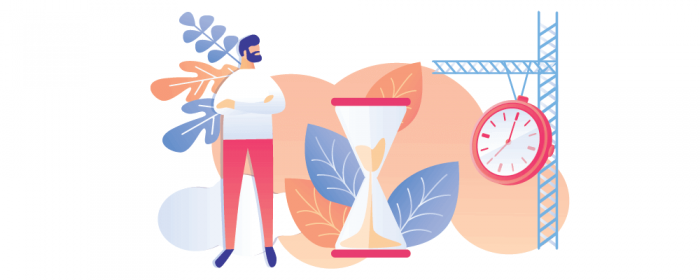 Asana devs understood that project management does not follow a 'one size fits all' mentality. They developed the tool in a way that helped promote organizations, teams, and every single employee as an integral part of the engine.
For Asana itself, promoting that culture was easy. However, it did take them a few hoops and challenges to transition their own company's modus operandi and cultural values as a fully-fledged virtual experience for worldwide users.
You can get the entire Forrester Consulting journal by signing up at Asana's webpage. We are sure that the insight will offer perspective into an organized project and program manager.
What are the chances that Asana will boost Productivity?
After reading the upper mentioned detail about Asana, do you think it can actually help you and your team reach the level of productivity you require? Well, as we know that Asana is an incredible management tool that provides a serene user experience with its exceptional interface.
But is that interface or some amazing project management functionality enough to get the job done for a large company? We think not.
If your company is rapidly growing and you are concerned about innovation, then Asana isn't the right fit for you because of shortcomings like slow integration of some extremely essential product features and its hidden product roadmap.
And if you are working within a large company, you would still be using popular communication tools like Slack or just regular email, and it would be extremely difficult to get the whole organization to switch over to Asana. So that's also out of the question.
That doesn't mean that you shouldn't at least try it out for yourself first and see how it fits your needs and requirements. But if you are browsing for good project management software on the market, check out the recommendations below.
Asana for project management: Reviews
A number of people have been debating Asana's pricing, features, and usability.
Frustration with getting data deleted from the Asana platform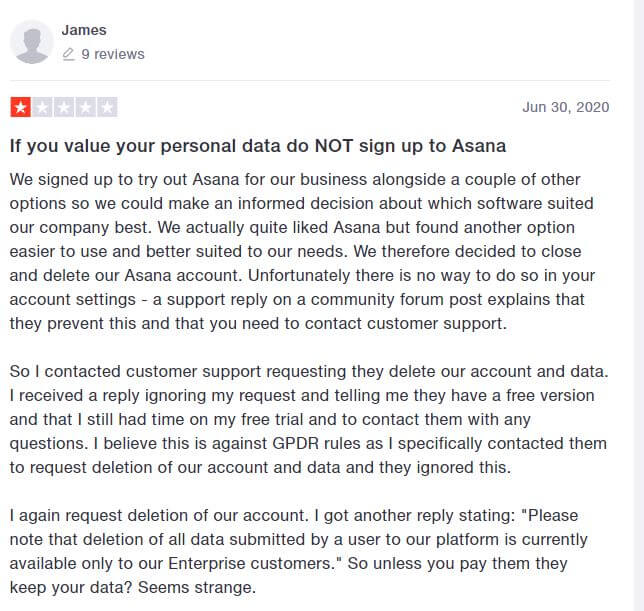 Frustration with changing pricing plans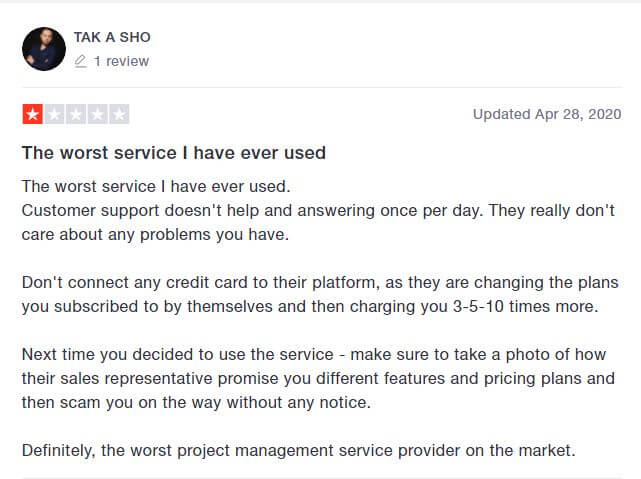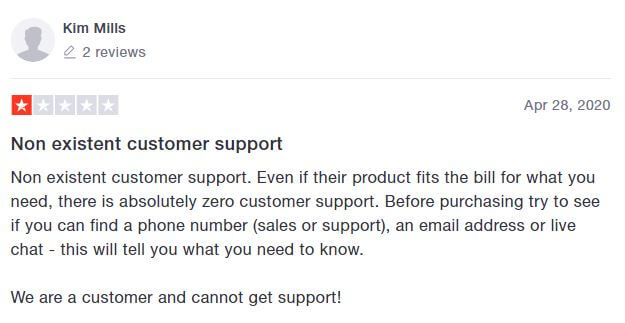 Top Asana Alternatives for Project Management
In order to manage smooth workflows for your project, you should consider the following top Asana Project Management alternatives that can help you manage your projects from start to finish: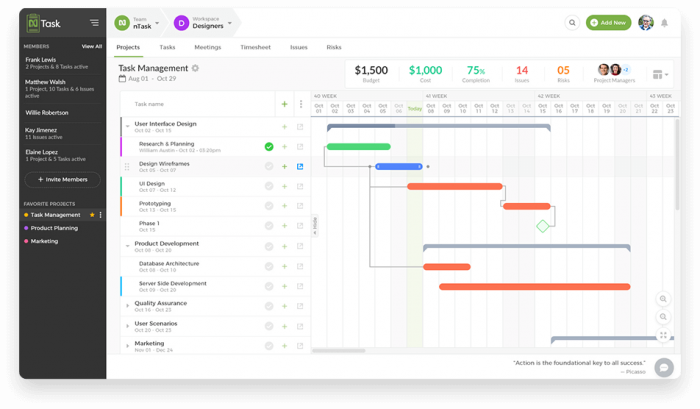 The nTask project management tool can fulfill your tasks and project needs with robust features for fast work execution and getting more done. If you need a complete collaboration platform, where you can easily collaborate with your team on tasks and projects, then this is the tool you should be using.
It is a simple and intuitive work management application that people love to organize their tasks and keep on track without losing direction. It comes with native Slack integration to make it easy for your team to track their tasks and not to miss out on your deadlines. Moreover, you can integrate nTask with thousand other apps with the help of Zapier integration.
It can help you manage multiple projects related to software development, marketing, human resources, and many more. If you want to switch to nTask, you should not worry, as you can easily import your tasks from Asana to nTask in just a few clicks.
nTask is the Best Free Asana Alternative

Manage tasks, teams, projects, meetings, and more with nTask. Join Now!.

Monday, formerly known as dapulse, is a simple tool for managing daily tasks and projects at the departmental level. It gives you a clear birds-eye view of your of work progress and makes it easy for your team to collaborate. The Monday users love its color combinations for its app and easy to use interface.
Many people who used Asana preferred Monday due to its UI and it makes your task management more lively. You can easily group your tasks and organize them using Monday.com, this is the reason people prefer this app. However, the downside of Monday.com is its high price, which is a no-go for startups and individuals.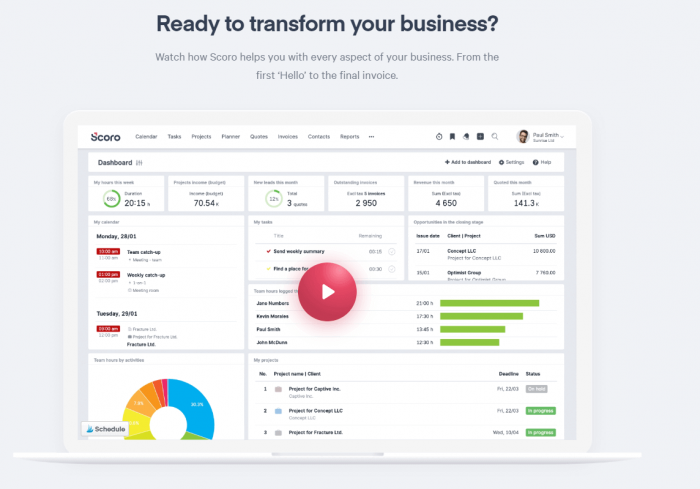 It is a workflow management software that can help you to organize your projects without shuffling apps. It offers a broad range of project management features to make your project management app a CRM tool. It gives you the ability to plan your projects, manage finances, track time, and create reports.
It helps you to manage your client details and customer messaging in just one app with project management functionality. It is more suitable for a sales-oriented organization.
FlowWright is best suited for: large and mid-sized organizations that want non-developers to define their business logic and accelerate the completion of their solutions, as well as software companies that want to embed.net workflow.
Wrike is ideal for mid-sized and enterprise businesses that value collaboration and manage multiple projects and clients. Custom workflows, fields, and reports allow you to tailor Wrike to your specific needs.
Integrify is best suited for large and midsized organizations that need to reduce costs and improve efficiency in areas such as IT, HR, Sales, Operations, and Finance through process definition, workflow automation, and visibility.
Pipefy is best suited for: Managers who want to standardize and run complex processes and workflows using a Kanban-style user interface without the need for IT, technical skills, or professional services.
Over to you!
The Asana project management has opened a wide door for agile and business teams to manage their work within just one app. However, every app has some plus points and some downsides which can be fulfilled by other software. It depends on your business type and your working scenario that which project management application best suits you.