Goal setting is an essential part of any successful plan, and there are many apps available to help you achieve your goals. Whether you're looking to lose weight, increase your productivity, or improve your mental well-being, there's an app for that.
In this article, we have compiled a list of the best apps to track personal goals and plans in 2023. So whether you're looking to stay on track with your New Year's resolutions or keep track of your monthly progress, read on to find the best apps for you!
What Are Goals Tracking Apps?
Goal-tracking apps are a great way to stay on track with your goals. They allow you to log all of the progress you make toward your goals, as well as any setbacks or changes that occur along the way.
This information can help you determine whether or not your current strategy is working and what adjustments need to be made.
There are several different goal-tracking apps available on the market today, so it's important to find one that suits your specific needs and style.
How Do The Goal Tracking Apps Work?
When you start using a goal-tracking app, it becomes the virtual coach that helps you reach your goals. This app tracks all the progress you make towards achieving your goal and provides feedback to help guide and motivate you along the way.
Additionally, it can keep track of any distractions or negative thoughts that might prevent you from making significant strides in reaching your objective.
Most apps offer different customization options so that you can tailor the experience to match yours exactly. You can also connect with other users who have similar goals or interests, which strengthens motivation and teamwork.
And if there are moments when progress feels difficult or discouraging, these apps often offer features like meditation or mindfulness practices that aim to calm and focus the mind on positive things.
Features To Look For In An App For Tracking Personal Goals
There are a number of features to look for in an app that is designed to help you track your personal goals. These apps can be helpful in keeping you motivated and on track, and they can also help you stay accountable.
Some key features to look for include:
A well-designed user interface that is easy to use. The interface should be simple and straightforward, with buttons that are easily accessible. You don't want to have to learn complicated navigation menus or constantly search for information.
A strong tracking system that allows you the flexibility needed to keep track of your progress over time. Ideally, the app will allow you to log activities by category (such as exercise, diet, etc.), as well as specific details such as time spent performing the activity, calories burned, and so on.
Support for multiple account holders – If you plan on using the app with friends or family members, it is important that it supports multiple users' accounts without any conflicts or problems arising from sharing data between users.
9 Best Apps To Track Personal Goals And Plans
There are a variety of apps available that can help you track your personal goals and plans.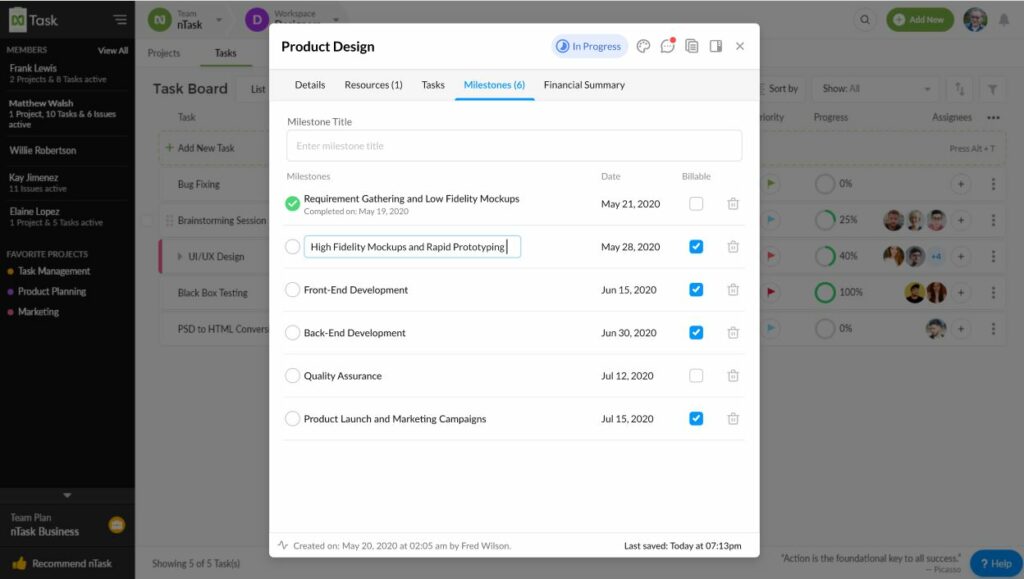 If you're looking for a way to track your personal goals, then nTask is the app for you. nTask is the perfect tool for anyone who wants to stay motivated and accountable on the targeted projects.
nTask also has a team collaboration feature where you can share your progress with other people who are using the app on their projects. This way, they can help motivate you and encourage you along the way.
Overall, nTask is an excellent goal-tracking app that will help you achieve your personal and professional goals.
Features
nTask has a lot of features that make it an excellent choice for goal setting, including:
A set of easy-to-use templates to get you started right away
A daily and weekly overview to see where you stand on your goals
A step-by-step guide to help you achieve your goals
A notification system that alerts you when you're close to reaching your goals
An auto backup system so that you can re-access your data even if your device crashes
Pros
It's easy to use.
It's efficient.
It can be used on a variety of devices.
It's affordable.
There are no limits to what you can do with it.
You can customize it to fit your needs.
Cons
nTask cons are the negative effects of using nTask. Some of the most common nTask cons include:
It takes up too much time
It's a hassle to use
It's difficult to find the right tools for the task at hand
It's hard to keep track of your progress
Customer Rating
Capterra
G2
2. Goals On Track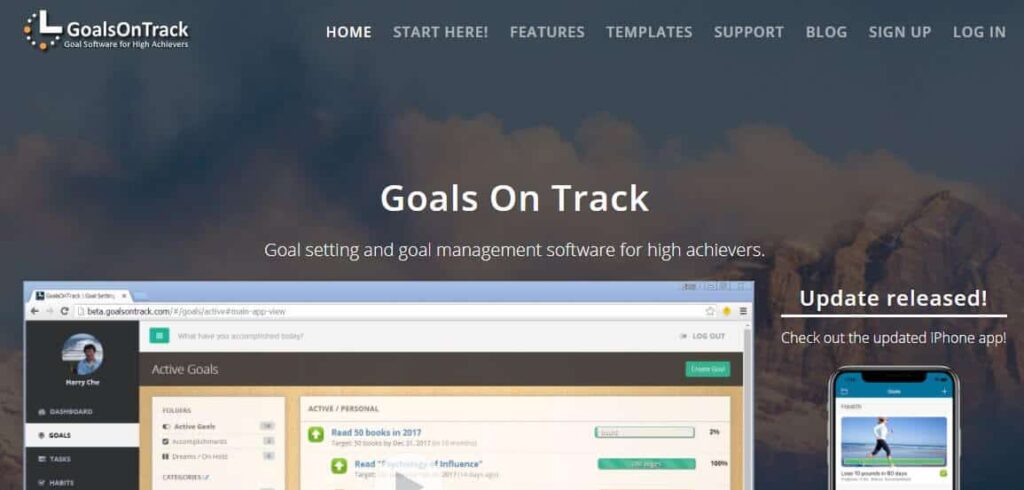 If you're looking for a simple way to track your goals and achieve them, then the Goals On Track app is perfect for you.
The app was designed with goal-setting in mind, and it provides a user-friendly interface that makes it easy to keep track of your progress.
You can add new goals as you go, and the app will automatically remind you when it's time to take action on your goals. Plus, the app features a built-in timer that helps you keep track of how long it takes you to complete tasks.
Features
Some of the features include:
A goal editor that allows you to easily add, edit and delete goals as well as set milestones and deadlines for each one.
A notification system that will send you alerts when you reach a milestone or when you need to update your goal status.
A social media sharing feature that will allow you to share your goals with friends and family.
An online journal that can be used to write down any thoughts or reflections on your goals.
Pros
You can keep track of your progress from anywhere in the world.
It's easy to find specific goals that you need to work on, and it's easy to measure your progress against them.
You can also share your goals with friends and family for support.
The app tracks your progress and gives you feedback about how well you're doing.
Cons
The app provides customizable goal alerts that help you stay on track and reach your objectives.
You can also share your goals with friends and family for support.
The app tracks your progress and gives you feedback about how well you're doing.
3. Way of Life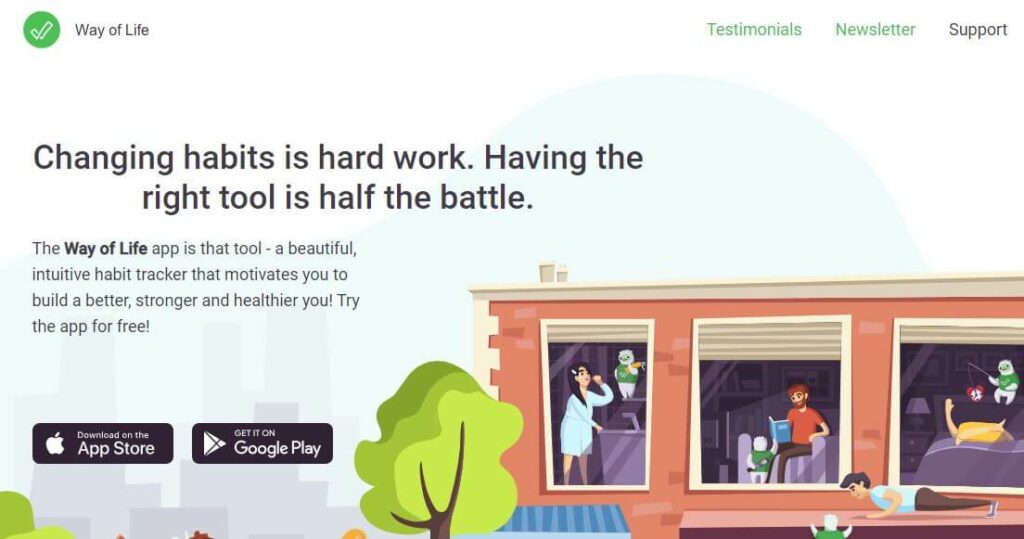 The Way of Life app is a digital platform that helps you manage and track your daily routine. It includes tools to help you set goals, plan your day, and stay on track. The app also offers tips and advice from professional lifestyle experts.
The Way of Life app was created with the goal of making it easy for people to improve their lives by taking control of their habits. It is free to use, and there are no ads or hidden costs involved.
There are many reasons why downloading the Way of Life app would be beneficial for anyone looking to live a healthier life. For example, it can help you set realistic goals and priorities, stay organized in your everyday life, and make changes that will have long-term benefits."
Features
You can browse through categories such as restaurant or grocery listings, or search for specific items using filters such as price range or cuisine type.
You can read product reviews written by other users before making a purchase decision, or rate/review your favorite businesses after visiting them.
Businesses can add their menu items directly into the App so that customers always have quick access to where they stand on food allergies etc., without having to leave their homes.
Pros
The user interface is simple and straightforward, making it easy for anyone to start tracking their progress.
The WayOfLife app offers a wealth of information on healthy eating, exercise habits, and more. This variety makes it easier than ever to find what you're looking for.
The Way of Life team management helps with the database regularly with new and revised content so that you can always be sure that the information is up-to-date and relevant.
The Way of Life team has years of experience in health & fitness journalism, which gives the app an extra level of credibility (and trust).
Customer Rating
Capterra
4. Toodledo

Toodledo is a task manager and to-do list app that can be used by both business owners and individual consumers. It allows users to manage their tasks in a simple, organized way, and it integrates seamlessly with several other apps and services.
Features
Some of the features included in Toodledo are:
A streamlined user interface that makes managing your tasks easy.
An integrated calendar that lets you easily see when your next task is due.
The ability to add notes or reminders for each task so you don't have to keep track of them separately.
Integration with clients, servers, software applications, and more for easier collaboration between team members.
Pros
It is easy to use and can be added to any device (PC, smartphone, tablet) where you have internet access.
The app has a streamlined design that makes it easy to view and manage your tasks.
Toodledo integrates with other services such as Google Calendar and Outlook, so you can easily keep track of important dates and deadlines.
Toodledo also offers Advanced Task Management features that make it possible to schedule complex tasks and manage multiple projects simultaneously.
Cons
It can be difficult for some people to find the information they're looking for when using Toodledo.
It's easy to accidentally leave tasks out of your list or forget about them altogether. If you need access to specific aspects of a task but don't remember where you put it, it can be difficult to track down the information you need.
Toodledo can be time-consuming to use because it requires users to enter all of their data into separate fields every time they create or edit a task or project entry.
Customer Rating
Capterra
G2
5. Atracker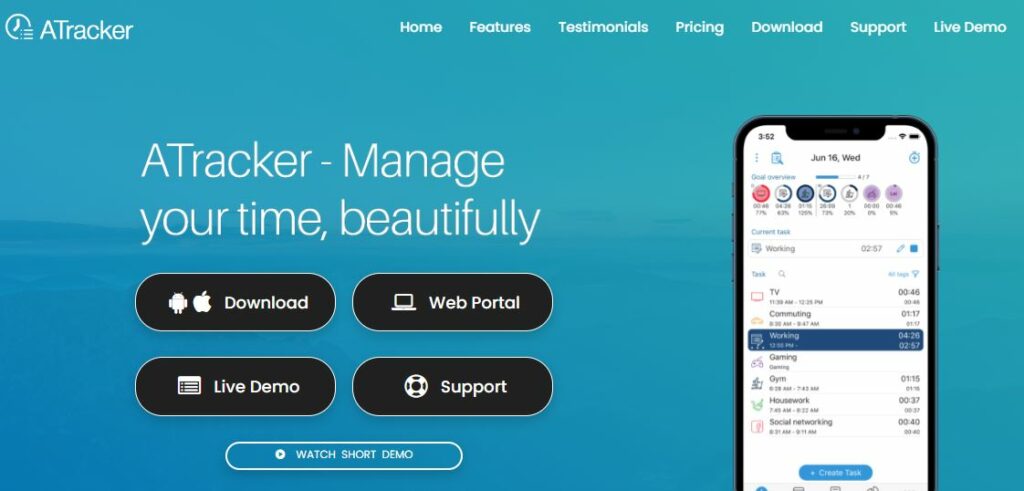 Atracker is a mobile application that helps professionals track their performance and find efficiencies in their work. It provides critical information such as time spent on each task, how much progress has been made, and where any bottlenecks are located.
This app can also help you stay organized and improve your efficiency by tracking deadlines and projects.
If you're looking to increase your productivity or simply need to better manage your time, Atracker is a valuable toolkit that can help!
Features
Some of the main features of using Atracker include:
The ability to collect data from multiple channels (email, social media, website visits), makes it easier to compare performance across different channels and track changes over time.
The ability to generate reports that show how users are interacting with your content (clickthrough rates, lead forms filled out, etc.), helps you better understand what resonates with your target audience and where you need to focus your efforts next.
The ability to automate tasks such as email marketing campaigns, form submissions, or drip emails in order to increase efficiency and drive better results
Pros
Reduced page load times
Improved user experience (UX)
Reduced server costs
Faster development cycles
Cons
Atracker disadvantages are as follows:
Requires technical expertise to use.
May be vulnerable to cyber threats.
Customer rating
Capterra
G2
6. Habitica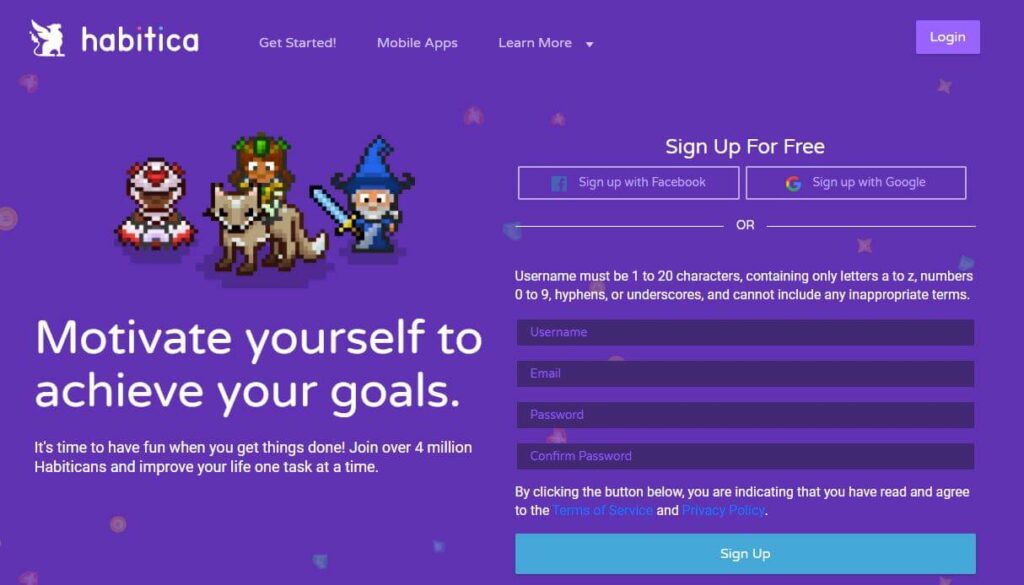 Habitica is a social gaming platform that lets users create and join games together to work on tasks. Tasks can be anything from collecting coins and badges to defeating bosses. Habitica has been praised for its addictive gameplay, immersive environment, and user-friendly interface.
Many people use Habitica as a tool for self-improvement – by working on various tasks together as a community, players can learn from each other and improve faster overall.
Features
Here are some features that make Habitica stand out from other social games:
The game is addictive and easy to play, even if you're not familiar with computer games.
It's designed to help users build positive habits by rewarding them for doing things they usually don't do (like getting up early or exercising).
The community aspect is what really makes Habitica special. Players can communicate with each other through messages, chat rooms, and forums, helping them stay motivated and support each other throughout their journey.
Pros
You'll learn new skills and improve your productivity
You can make friends with people from all over the world, who share your interests and passions
The game is constantly evolving, which keeps it interesting
Cons
It can be addictive
The rewards aren't as good as they seem
It's difficult to get started
There is no real community aspect
Customer rating
Capterra
G2
7. Coach.me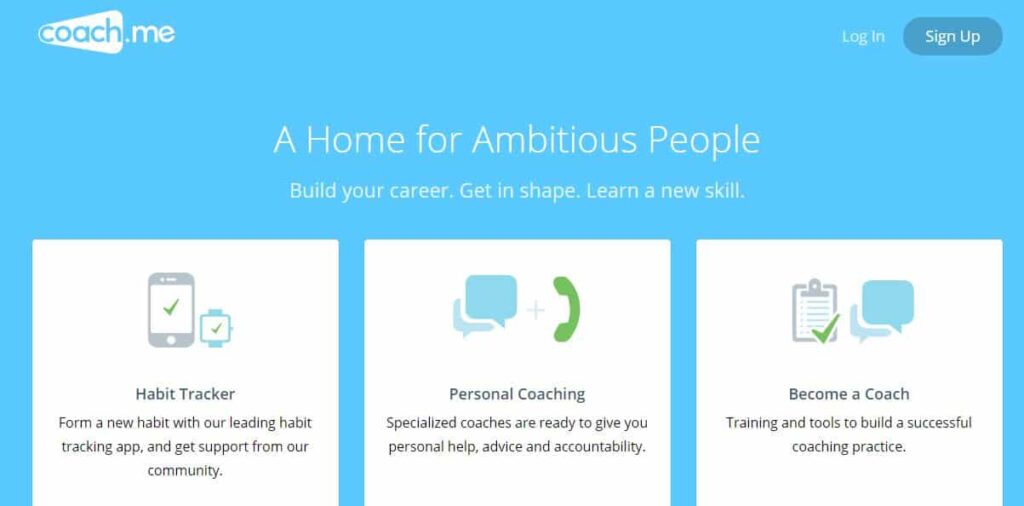 The coach.me app is a great resource for both individuals and businesses looking to improve their lives.
The app provides access to live chat, video conferencing, and email coaching from experienced professionals. You can also find a variety of helpful resources, such as articles and case studies, on the coach.me website.
Features
The app offers a variety of features, including:
A personal coach who will help you work on specific goals or challenges that you have identified.
Tools to track your progress and make sure that you are making real progress toward your goals.
An interactive forum where others can discuss the same topics as you and help guide you along the way.
Pros
It's easy to use and navigate. The design is simple but effective, and all the features are clearly labeled.
The chat feature is great for communicating with your coach quickly and easily.
The support team is quick to respond to any questions or issues that you might have.
Cons
Coach.me doesn't offer as many assistance options as some other services do, such as phone or chat support.
The monthly plans offered by coach.me are expensive compared to others on the market.
Customer rating
Capterra
G2
8. Clockify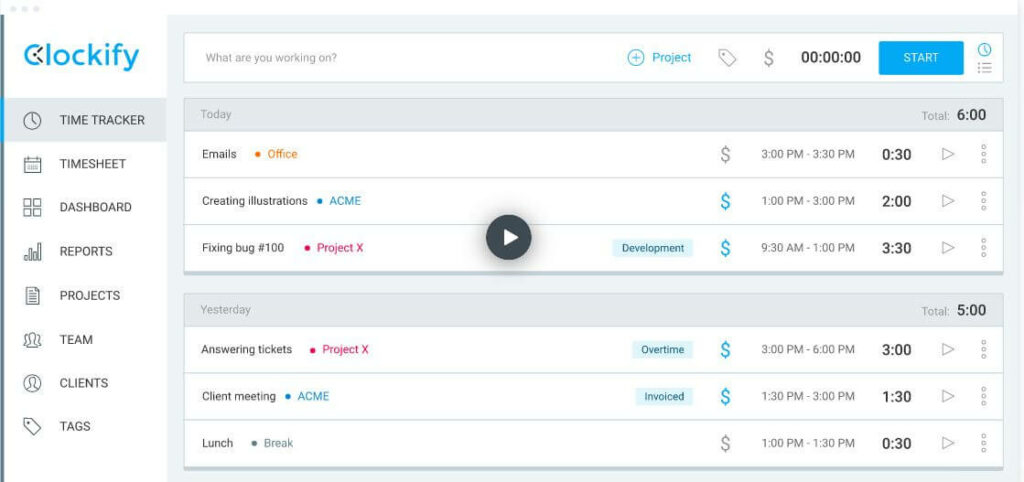 Clockify is a new app that lets you control your digital clock from anywhere in the world. You can use it to change the time, set alarms and timers, and more. It's perfect for people who want to get organized and have more control over their day-to-day lives.
Clockify makes using calendars super simple – just drag and drop events into the calendar grid, add notes if necessary, choose which days you want the event visible on (weekdays or weekends), and hit 'Publish!' And voilà – your schedule is ready for everyone to see!
Features
Clockify helps you to easily add a clock to any web page or app.
You can use Clockify on your website, in your apps, or even as an embedded widget.
Add a beautiful and easy-to-use clock to any webpage or app!
Easily customize the look and feel of your clock with our wide variety of themes and styles
Pros
Improve your productivity with Clockify – the best time-tracking app on the market.
Stay organized and in control of your time with easy-to-use features and tools.
Track your progress and see how you're improving over time with graphs and reports.
Cons
Clockify can be slow, buggy, and difficult to use at times.
Customer rating
Capterra
G2
9. Weekdone

Weekdone is a mobile app that helps you track and manage your week. The app provides daily reminders to help you stay on top of your tasks, as well as an interactive timeline that allows you to see how your work impacts the rest of your life.
You can also share progress updates with friends and family members through social media platforms like Facebook and Twitter.
Weekdone is currently available for free on Android and iOS devices.
Features
Some of the unique features of the Weekdone app include:
A daily routine planner that helps you structure your day in an effective way
A weekly goal list that makes it easy to see what needs to be done each week, and how close you are to achieving your objectives
An alarm clock to help you wake up on time every day, without feeling overwhelmed or stressed out
Notifications for important events or updates related not only to work but also to your personal life
Pros
The interface is easy to use, even if you're not familiar with computers or technology.
The app can be used on both desktop and mobile devices, which makes it convenient wherever you are.
It's available in multiple languages, making it accessible to everyone.
Cons
It can be difficult to find tasks that are relevant to your current interests or situation.
Progress reports may be too motivational for some users.
Customer rating
G2
Trust Radius
Here's How nTask Can Help You Track Your Personal Goals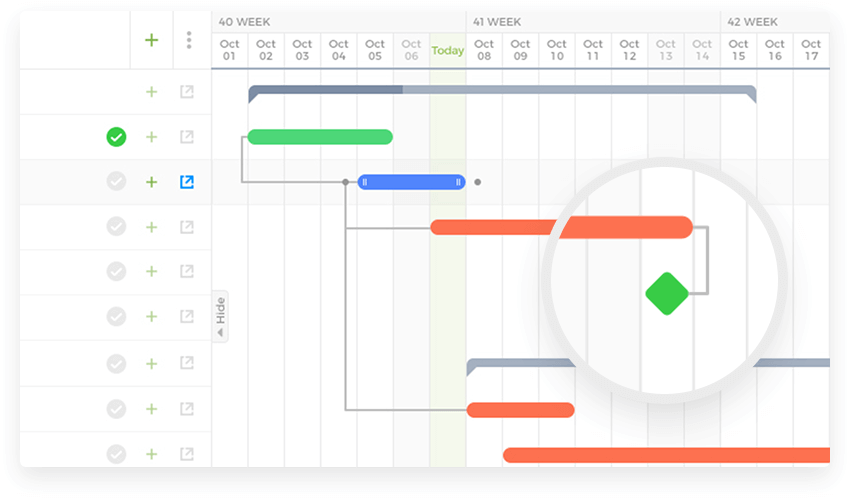 nTask is a goal-tracking platform that makes it easy for users to see where they stand relative to their goals. The app features a simple and intuitive interface, as well as the ability to track multiple goals at once.
Additionally, nTask provides detailed reports that make it easy to understand how you're progressively closer to achieving your objectives.
nTask is perfect for anyone who wants quick and easy access to information about their progress on major life or work goals.
Whether you're looking for an effective way to stay organized and motivated during your everyday tasks, or you want help conquering one of your biggest challenges, nTask can help!
Conclusion
These personal goals apps are designed to help you achieve your goals and plans based on what you have already done in the past. The best part is that they can also be used as a time-management tool, making it easy to manage your everyday tasks.
Did we miss any of your favorite apps? Share it with us in the comments section!
---
More Articles You May Like: