Since its inception, time and again, nTask has proven its efficiency with various advanced features, frequent upgrades, inexpensive pricing, and much more.
The app is loved by over 250,000 companies in over 150 countries and continues to turn heads in the market.
nTask is our favorite project management tool not only because it's our product but because we are always upgrading and developing the tool to ensure its efficiency. Over the years, we have strived to make modifications wherever necessary and have never shied away from identifying and revising the gaps in the tool.
While we do endorse the software, we are also aware that sometimes nTask might not be the right tool for your project or you might just want to take a look at its alternatives. Since we know our tool best, we have identified the top 10 nTask alternatives that compare well with the tool.
In this post, we will give you a rundown of the most suitable nTask alternatives along with their brief intro, key features, and pricing details. Without further ado, let's dive straight in!
List Of The Top 10 Best nTask Alternatives:
1. Asana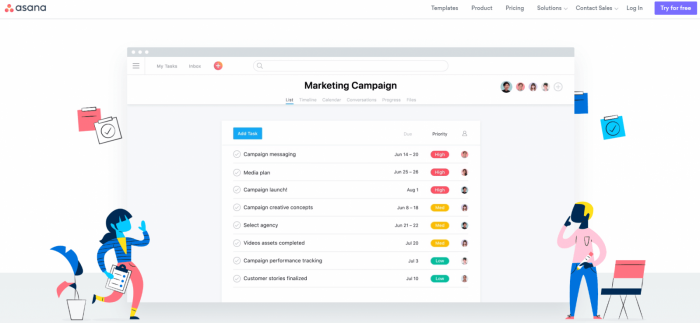 Asana is our first pick for this list. The tool is a well-known, reputable project management software that brings all your team members on the same page. With its various features, you can say goodbye to mismanaged, disorganized teams and welcome structured workflows with improved productivity for the team.
With Asana, you can easily create workflows for your projects with each project divided into different tasks. Each task can be assigned a different resource and deadline. It also offers tracking features with which you can have an eagle-eye view of the latest developments in the project.
The tool keeps you updated and plays a significant role in ensuring the smooth completion of your projects- just like nTask.
Key Features:
Offers 4 different views for your workflow; boards, lists, timeline, and calendar
Set milestones in the project to identify and visualize checkpoints in your project
You can group similar tasks into sections for a higher level of organization and management
Allows you to create custom fields for information necessary for your project
Files and attachments can be shared at the individual or project level
You can set definite rules to automate certain actions necessary for the successful completion of the workflow
Allows you to view workload on different resources so that you can balance workload
Manage security with permissions and privacy to control access to sensitive data
To keep unnecessary intrusions at bay you can lockdown your project with a Comments-only feature that allows you to share information with your team members without worrying about unwanted edits
Comments and chatting options help you stay connected with the team
iOS and Android app keep you updated on the go
Offers multiple third-party integrations to unify your workspace
Pricing:
Basic plan – Free forever
Premium plan – $10.99/user/month
Business plan – $24.99/user/month
Enterprise plan – Contact the Asana team for custom quotes
2. Monday

Monday is our 9th pick for this list. It is a nTask alternative that has proven its efficiency with the wide range of solutions it offers for various processes in the company. You can sign up on Monday for project management, sales, and CRM solutions, and much more.
Key Features:
One-stop-shop for planning, tracking, and delivering your team's work
Offers readymade templated that you can use immediately
Multiple integrations unify your workspace for smooth working
Automations help you save time and speed up your work
Offers multiple views including map, calendar, timeline, Kanban, and more.
24/7 customer support helps you with anything you need anytime.
Pricing:
Individual plan – free forever
Basic plan – $8/user/month
Standard plan – $10/user/month
Pro plan – $16/user/month
Enterprise plan – custom ricing available on contact
3. Trello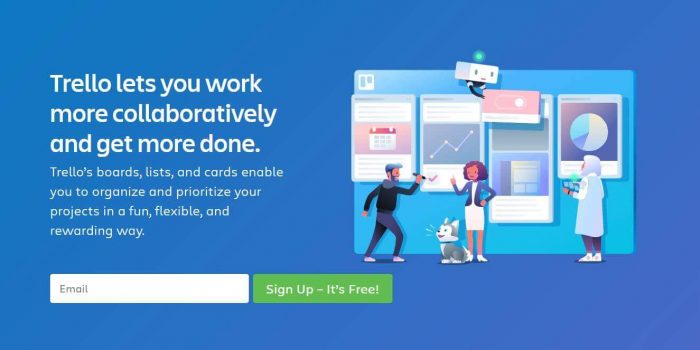 Trello is another nTask alternative that offers unique features with which you can easily manage your projects without any hassle. With its various customization features, you can fully personalize your workspace to make it your own.
Trello's built-in robot called Butler simplifies project management for you with various automation options. More than a million teams across the world trust Trello and we do too!
Key Features:
Offers 5 different visualization options including, cards, lists, timeline view, calendar view, and table view
Trello card keeps a record of the minutest details of your tasks
Offers a list view of all the cards along with their status
Allows you to exchange feedback with your team
Dashboard offers insights into the stats of the project
Allows you to integrate different apps or add a Power-up that fine-tunes your needs
Drag and drop feature makes project management much easier and smoother
Pricing:
Free plan – Free of cost
Business-class plan – $10/user/month
Enterprise plan – Pricing available on further contact
4. Jira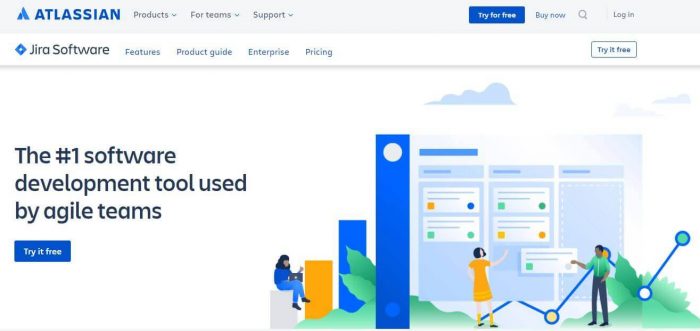 Jira is our next pick for the list of best nTask alternatives. The software is built to help agile teams manage their projects more efficiently. The tool is a better choice for software development teams.
The management tool allows teams to stay connected and collaborate to plan, track and release new software without any hiccups.
Key Features:
Customizable scrum boards help teams stay focused on delivering value as soon as possible
Kanban boards offer full visibility so that teams can view their performance and improve their work and also keep track of their progress
Roadmaps offers are an efficient way of analyzing and sharing your plans with stakeholders
Offers detailed insights into your team's performance with actionable reports
Built-in automation all across the platform simplifies your work
2-step verification security ensures the safety and security of your data
Pricing:
Free – $0 for 10 users
Standard – $7 per user per month
Premium – $14 per user per month
Enterprise – Pricing is available when 801 or more users are added
5. Wrike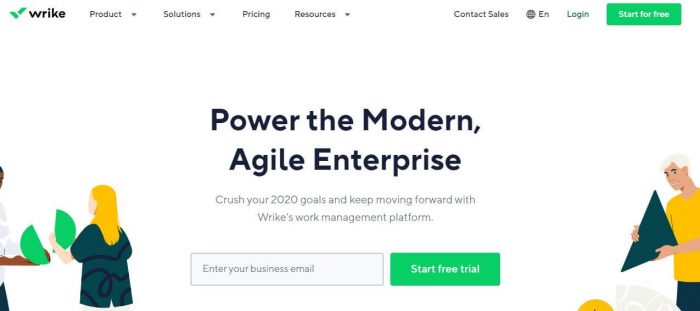 Wrike is a versatile project management tool that compares with nTask in terms of its advanced features and high usability. The tool is a one-stop-shop for project management wherein you can create and assign tasks, communicate and collaborate with team members and keep track of your progress.
Key Features:
Offers customizable features for workflows, dashboards, etc. to make sure teams have all the tools they need to ace their projects
Makes collaboration easier with file sharing, tracking, and reporting features
Offers a 360-degree view of all the activities across various projects in the organization
AI technology of the tool offers smart automation and risk prediction
Pre-built templates speed up the processes
Custom forms gather data and automatically create tasks and assign them to relevant resources
Allows automation of the approval process to simplify the process
Offers 400+ integration with leading apps
Pricing:
Free plan – $0 per user per month
Professional plan – $9.80 per user per month
Business plan – $24.80 per user per month
Enterprise plan – Contact Wrike team for pricing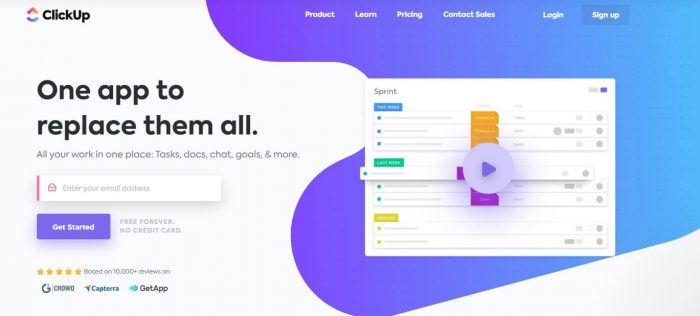 ClickUp is probably the only app that closely matches with nTask in all of its features and pricing. The all-in-one app is loaded with management solutions that can help you ace your projects without any hassle.
ClickUp also offers various templates to help you quickly get on with your project. Multiple views allow you to visualize your progress the way you prefer.
Key Features:
Offers 15 diverse views for your projects
You can easily import data from apps in minutes
Offers 100+ proprietary features for your workflow
Customizable spaces for every team
Simple checklists and advanced workflows
Customizable features help you personalize your workflow
Integrates with 1000+ tools and apps
ClickUp app is available on iOS, Android, MAC, Windows, and Linux.
Pricing:
Free plan – Free forever
Unlimited plan – $5 per user per month
7. Airtable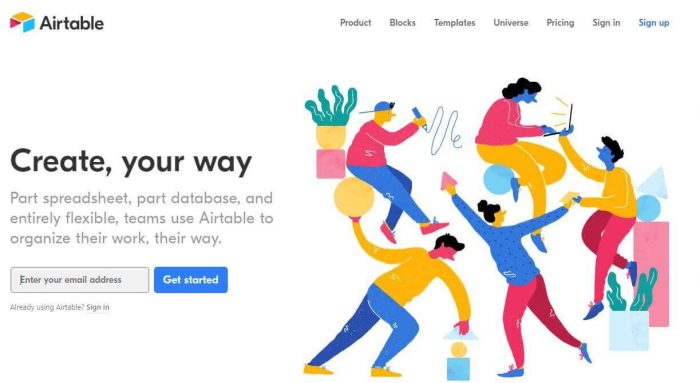 Airtable is another management tool that has captured our eyes with its easy-to-use interface and highly capable features. The tool is trusted by over 200,000 companies all over the world.
Airtable's most unique features include its spreadsheet-based workflows in which you can log in all the information you need for your company's projects. The tool also offers app development with built-in templates. This feature can be really helpful when creating personalized project management apps that fit your company's needs.
Key Features:
Allows you to create a database for all your data
Offers 4 different views including, grid view, calendar view, gallery view, and Kanban view
Offer 50+ pre-built apps that can be added with a single click
With automation features, you can orchestrate notifications, create tasks, integrate tools, and run custom codes
Helps you connect with different apps via integrations
Mobile and desktop apps keep you updated at all times
Pricing:
Free – $0
Plus – $10 per seat per month
Pro – $20 per seat per month
Enterprise – Contact Airtable's Sales team for custom pricing.
8. Hive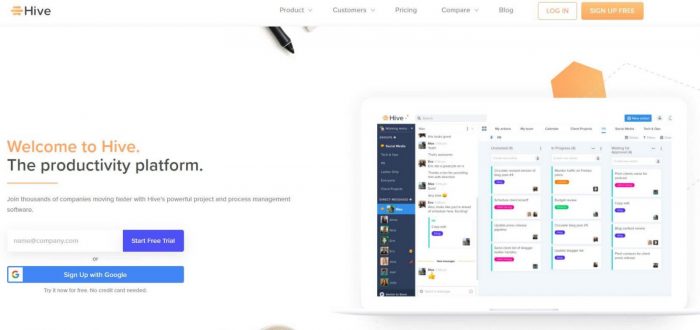 Hive has made it to our list with its ability to improve your productivity and efficiency. The software aims to help you reach your goals with record speed.
Key Features:
Visualize work progress via Gant, Kanban, and calendar view
Enabling focus mode helps you get rid of distractions so that you can pay full attention to your work
You can view all tasks assigned to you along with their due dates to keep up with the schedule
Helps you understand and visualize your team's workload
Baselines help you understand the development of your project over time
Allows you to create cards for high priority tasks so that team members can access and offer their help for the task
Control access by adding members as read-only members, external members, or full-access members
Offers automation to accelerate your team's progress
Helps you take notes for various processes in the workflow
Multiple integrations with various apps
Pricing:
Hive's base package – $12 per user per month
Enterprise – Custom pricing available on contact.
You can also get add-ons with a base package for your workspace rather than signing up for an enterprise plan:
Proofing and approvals – $4 per user per month
Resourcing – $4 per user per month
Timesheets – $4 per user per month
External Users – $4 per user per month
Enterprise security – $4 per user per month
Analytics – $6 per user per month
9. MeisterTask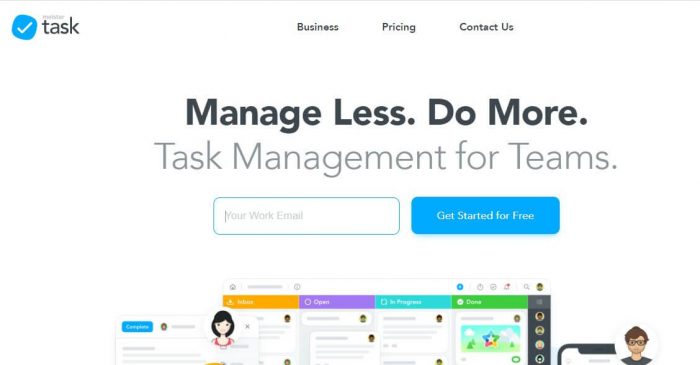 Mesitertask is an intuitive task management tool that can easily fit in with your team's workflow. Its advanced features go above and beyond the realm of task management offering various features for better collaboration, communication, tracking, reporting, and management.
Key Features:
MesiterTask's Kanban boards are highly customizable offering unlimited sections, filters, and much more.
You can limit the number of tasks in your workflow to make your work more organized and high-quality
A horde of different features is offered for efficient task management including time tracking, attachments, tags, etc.
You can assign a task to a resource and become a watcher to keep an eye on the progress of the task
Offers a personal board where you can pin tasks for your ease
Detailed statistics and reports keep you in the loop about the latest project developments
Control access to your data by assigning different roles to users including, administrator, member, read-only, and commenter.
Pricing:
Basic – Free
Pro – $4.19 per month
Business – $10.39 per month
Enterprise – Contact team Airtable for custom pricing
10. Zoho Projects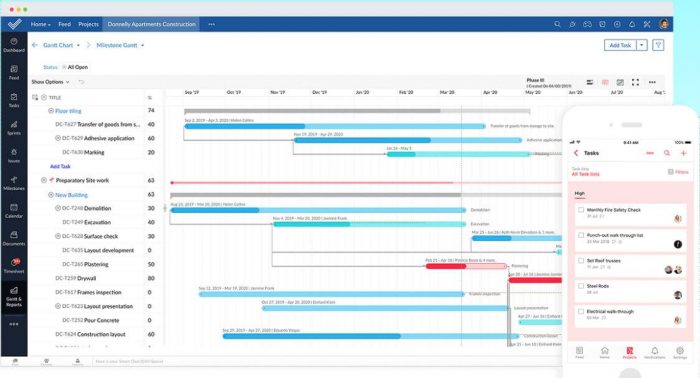 Zoho Projects is our last pick as a nTask alternative that has comparable features. ZohoProjects is a cloud-based project management software that can help you from the start of your project till the end.
Key Features:
With Gantt charts, you can plan and track your tasks
Friendly user interface makes the onboarding process quick and easy
You can easily assign tasks to your team members, set deadlines, and track the developments in your project
Offers seamless integration with Zoho apps and other third-party apps
ZohoProjects' app is available on iOS and Android
Pricing:
Free plan – available for free
Premium plan – $5 per user per month
Enterprise plan – $10 per user per month
Conclusion:
Here you go, we just walked you through the best nTask alternatives. While all these apps and tools are good, we would like to remind you that they are but alternatives and not the real deal. nTask's features far exceed the ones listed above with lower prices.
Also, with nTask's penchant for constant improvement, we are always on the lookout for the latest features and upgrades that may simplify project management for you.
With that, we would like to sign out.
Sayonara!