Greetings from nTask!
What do months of incredible development, effective collaboration, and heroic development result in?
To put it simply; we are excited to bring a revamped Risk register with a bunch of exciting new features dedicated to acing Risk mitigation like a pro. It's an empowered approach to identifying & resolving project criticality that would otherwise slow down your deliverable at the end!
There are custom fields, checklists, new drop-down options, Risk Matrix charts like never before, and much more. To say the least, whenever it's that time of the month when our team is ready to release exciting new features, our intestines quiver with excitement at the prospect of helping dedicated project managers from around the world.
To that effect, we'd like to thank you for helping us to make nTask better.
Based on your valuable feedback and 24/7 collabs, the new and improved Risk Management module will not only help you to address potential risks that crop up during the lifecycle of a project, but you can also mitigate those itty-bitty issues while ensuring that the project stays on target, on budget, and on track!
What's New with nTask Risk Management Module?
Let's take it down from the top.
Since project risks have always loomed around as a hindrance to phenomenal milestone completion, it's time to take control of your workflow without overloading the budget at the cost of reduced performance. It wouldn't be wrong to say that most of the project issues pertaining to delayed timelines, last-minute revisions, and other problems stem from potential project risks.
With added control over your projects and their success through functionalities to further drill down on risks, the new Risks module offers additional options to tweak your Risk Register and Risk Matrix.
The Register in our risk management software gives a detailed view of the risks in terms of the data, its impact, likelihood, who registered the risk, and its current status. The Risk Matrix, on the other hand, gives a quick overview through a chart of a risk's impact as well as its likelihood.
This structured approach to risk management, managing, tracking, and following up on project risks leads to robust productivity.
The exciting new release is just around the corner, with risk mitigation centric features, such as, but not limited to:
1. Risk Custom Fields
With multiple edit options, it is now easier than ever to create risks and manage detail their relevant nitty-gritty through a robust 'Custom Fields' system.
The revamped update will enable you to Create New Custom Fields with the added benefit of appending your most important Project Risk related details over multiple categories ranging from Drop Downs with New Consistent Options, Checklist for adding risk highlights, and Matrix to create to define your custom rows and columns the way you see fit!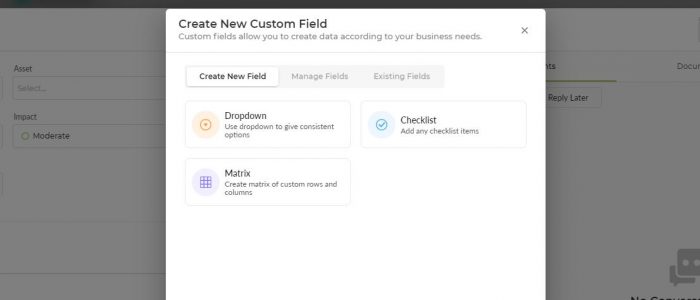 Yes! You can also copy and replicate your custom fields without repeating the entire process from scratch for other risk categories/projects.
2. Enhanced Risk Register

nTask's latest Risk Register offers flexibility to hardcore project managers who are responsible for mitigating high-priority issues.
The latest release will not only help you to detail multiple aspects of your project risks through a dedicated list of different options, but you'll also be able to answer several questions about the risks you have identified during the course of an ongoing project:
Your risk response plan for XYZ Project(s)
Create assignees responsible for handling project risks
Define the priority level of your project risk management on the basis of the impact vs likelihood relationship
Define likelihood for any given risk event to highlight its severity for the entire project team
Try the best risk management platform today!

Manage risks, issues, projects, tasks and everything on nTask. Sign up now!
3. Interactive Risk Matrices with Custom Rows and Columns
Say hello to brand-new interactive matrices. We have introduced a dedicated 'Risk Matrix' tab within your project risk menu to help you create your very own Risk Matrix.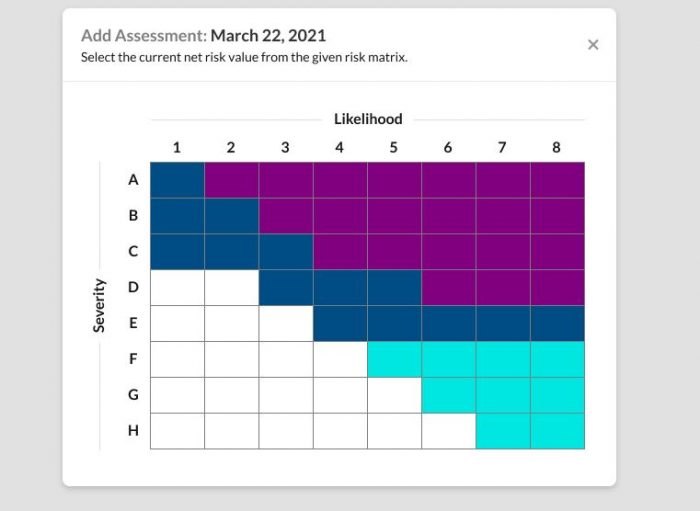 You can create multiple custom risk matrices based on the grid size of (2*2), (3*3), (4*4), and goes on till (10 by 10).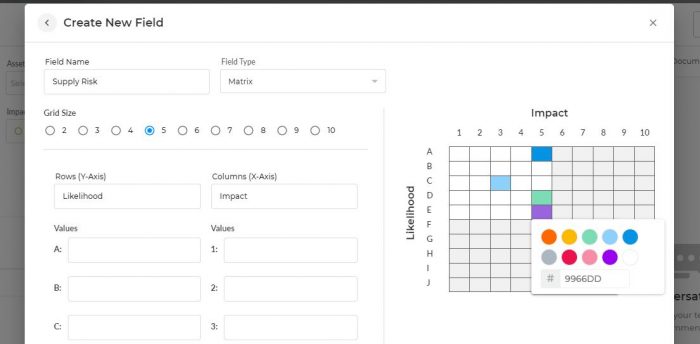 While the default Risk Matrices are created as you go on with defining your Risk Impacts and Likelihoods, you can further tweak or create a new Matrix through the Custom Field menu. Hover over to Matrix and click to see multiple options for adding new Impact to Likelihood options.
Moreover, you can set values (Text or Number) for rows and columns for each grid. Also, you can choose a custom color for the grid. This can be saved for this particular workspace or can be applied across all the workspaces.
Care to edit an existing Matrix that you have already created before? Don't sweat it. The Custom Field menu has a dedicated Existing Fields tab to let you do over your pre-appended Matrices as you see fit.
4. Risk Checklists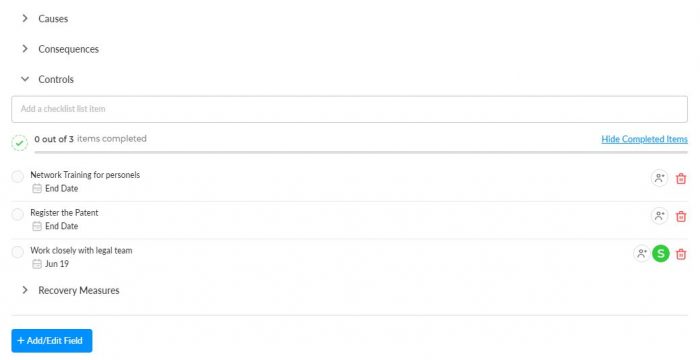 Create your risk checklists at multiple levels!
That's right. The new system offers a fresh intake on the way you define your risk mitigation details by adding your custom checklists to a single Workspace or 'All Workspaces' without individually mopping over every single one of 'em.
You can create multiple checklists in the risk module. Like, you can create a separate checklist for Control Measures, Risk Evaluation Criteria, Recovery Measures, Consequences, or anything that suits your business model.
Don't worry, if you are having a hard time figuring all of it right now. Bide your time and go through each option to see how it pans out.
5. Assessment Graph

Get a clear picture of the Risk Assessment graph created inside the risk dialogue box. See clearly how the risk is moved from a critical to a manageable position each day.
This feature enables the risk owner to keep track of the level of the risk and what efforts they are doing to minimize the effect. 'Add Assessment' each day, or on days you work on your mitigation plan to track the level of risk.
Incorporate Risk Management Into your Next Project Execution Session
Great projects are based on flawless plans and heroic risk management.
That's quite a feat if you ask us.
With the new risk-centric feature release, now would be the perfect time to incorporate your project risk management and planning into your brand new Risk Register. Besides, it's a great way of falling back to an openly accessible risk management plan that leans on helping your team with a proactive risk resolution process.
For further assistance or guidance into navigating through nTask's latest Risk Management module, feel free to book a free demo via our support panel.