The sole focus of a CSR's job is engaging clients and making as many sales as possible. They have to get in touch with as many prospects as possible, be it over the phone, email, or social media to market their company's goods and services and attract as many clients as they can. This feat is almost impossible to achieve until or unless they have an online address book software supporting them.
Let's be real, keeping a record of all contacts in a diary is too primitive in the modern world. The world has already upgraded to newer means of contact management and if you are a CSR or part of an Agile team then you should too.
What you need is an efficient online address book software, one that can not only keep a record of all the contacts but also organize them properly so that you can retrieve the data quickly. Also, having an efficient tool means access to clients' data which allows you to make better decisions and offer more attractive sales pitches.
According to SalesforLife, sales representatives perform 94.4 activities on daily basis. Since a sales representative's job revolves around customers, all the activities involve engagement with the prospects via emails (38.4%), phone calls (38.0%), voicemail messages (16.2%), and social media touches (7.4%).
Since interaction with the prospects is the best way of making sales, CSRs have to interact with as many individuals as possible. To make an attractive sales pitch and make intelligent guesses, Agile teams have to have access to clients' data.
Thankfully, you do not have to roam around or stalk the prospects to learn about them or collect their data, all you have to do is get an online address book software and relax. And we are kind enough to have made a list for you already.
The following section will give provide you with an overview of the best tools in town. We have also discussed the key features and pricing details of the tools so that you can make a quick and smart decision for better results.
List Of The 9 Best Online Address Book Tools: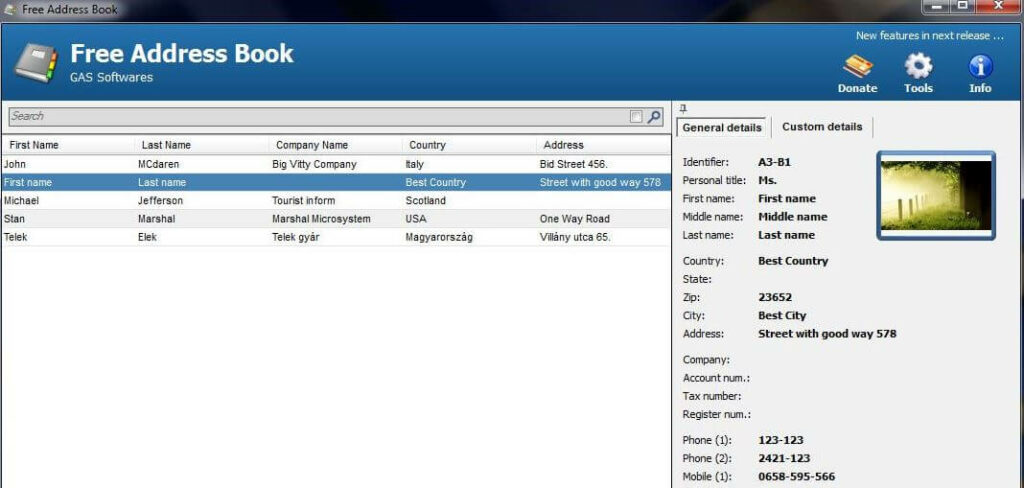 Starting off with the best option in the market Free Address Book.
Free Address Book, like its name, is a free tool that allows you to add, edit, manage, and print your contacts. The tool has a simple and user-friendly interface which makes it super easy to use. You can keep a record of as many contacts as you want with added details such as phone number, email, address, etc.
Search and retrieval of contacts, as and when needed, is also a piece of cake with Free Address Book's unique and versatile features. You can add contacts manually or import CSV with all the details. The software is not only suitable for Agile teams and CSRs but also for individuals working alone.
Key Features:
free for personal and commercial use
Easy search and retrieval of contact information
Printable address list and details
Customization features for printing
Easy personal information management (PIM)
Custom fields
CSV export – import
Free support
Categorize contacts into groups
Sales pipeline management
Photo attachment with contact
Reminders
Pricing:
Free Address Book is available for free.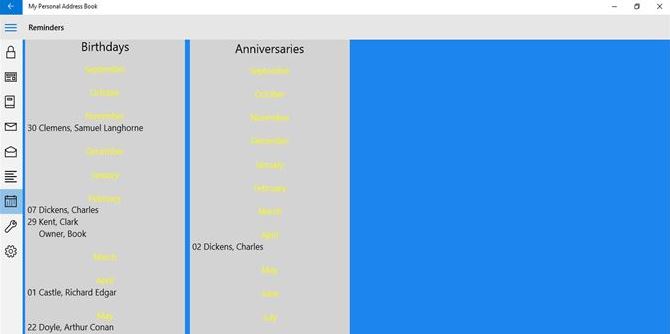 My Personal Address Book is another one of our favorite address book tools. The tool by Microsoft is one of the most trusted and has established itself as one of the best with its excellent features.
Along with the address-keeping option, the tool offers multiple printing options. You can print address books, invitation cards, etc. Moreover, the app can also provide you with a map and driving instructions to the address in your book.
One of the most unique features of the tool is that you can integrate it with other tools which makes it so much easier to manage everything.
Key Features:
Unlimited number of address books
Five standard sizes for address books
Print envelopes and labels addressed to the people in your address book
Direct emails
Generate driving instructions
Use Skype to call the telephone
Data encryption
Integration with OneDrive
User-friendly interface
Generate email requests or a driving directions request from the primary window
Pricing:
My Personal Address Book offers standard and premium versions of the tool. The standard version is available for free while the premium version requires an annual subscription.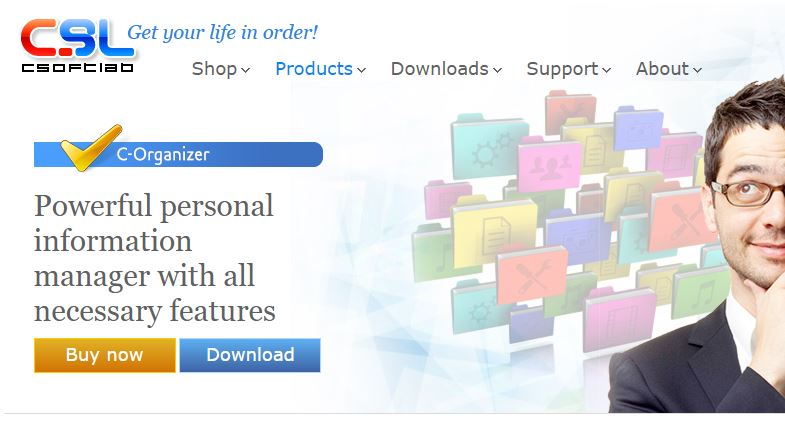 C-organizer has made it at 3rd place in our list. The tool is an efficient one, offering a suite of features that make address management much easier and simpler. The tool, made by C Soft Lab, is one of the most powerful content management solutions in the market.
 Besides helping you organize and manage addresses, it allows you to manage and organize events, appointments, lists, notes, and contacts. One of the most promising features of the tool is that it organizes all the info into different compartments such as General, Today, Calendar, Tasks, Password, Notes, Events, etc. which makes the search and retrieval process simpler.
Key Features:
User-friendly interface with customization options
Offers password protection
Multi-user database access
It can send notifications on the screen, by email, start programs or open documents at any set time.
Powerful print-out function
Built-in print templates editor
Supports TXT, CSV, XML, CDB, HTML and RTF formats for import and export of data
Powerful search engine
Portable program
Pricing:
Offers free trial of 30 days
C-Organizer Professional – $39.95.
C-Organizer Lite – $29.95.
Advanced Diary – $29.95.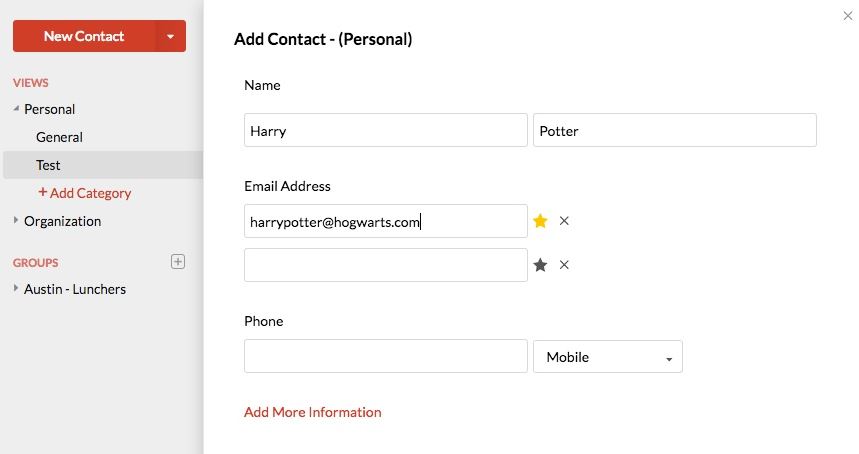 Zoho has made a name for itself in the business world with its efficient solutions helping businesses in different areas. Zoho Contact manager is another solution by Zoho that is specially designed for contact management.
It is a cloud-based software that keeps track of your professional and personal contacts. Since Zoho is an all-in-one solution, it can also help you manage different aspects of the business with its intuitive solutions such as project management, tracking, etc.
Key Features:
Add contact directly or via email using the contact card
Offers multiple contact actions to streamline the work for you
Sort contacts by first name or last name
Import and export contacts
Clean duplicates of contacts
Start afresh with the 'reset contacts' option
Offers integration with other apps and tools
Pricing:
The tool is available for free and can be downloaded on desktops or installed on phones.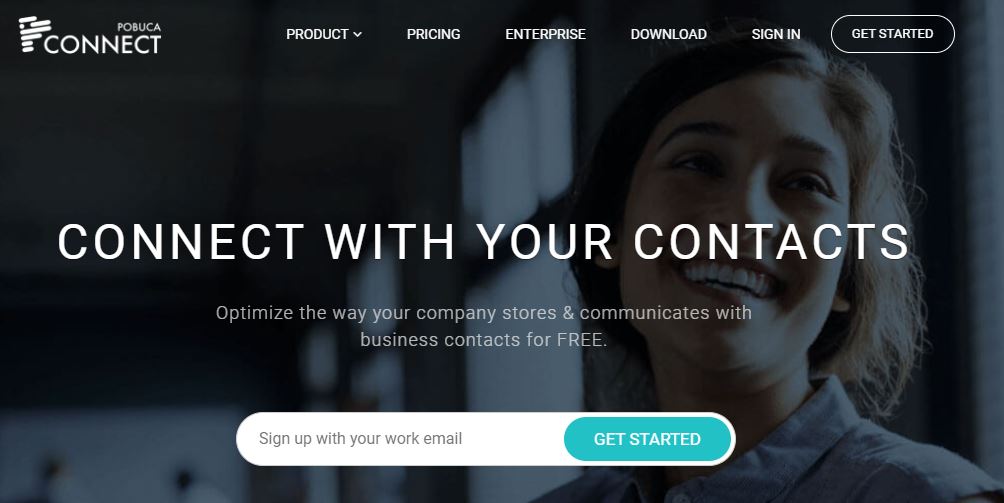 Pobuca Connect is our 6th pick for this list. The address book software aims to improve productivity and enhance communication across channels with its advanced contact management options.
The tool is especially helpful in smoothening communication and collaboration since it allows you to share related info with team members from different devices. The plus point of the tool is that it offers an AI Pobuca Robot with automation features which ultimately reduces the burden on your shoulders and makes work easier for you.
Key Features:
Admin panel helps with user permissions, accessibility, and other functions
Standard fields can be used to refine searches
Import contact from mobile or email without duplication
Add comments to contacts and share information with your team
Set Reminders and get notified on time
Set different working teams according to departments, etc.
Integration with Zapier
Pricing:
Free – $0 Free Forever
Pro – $2.5 per user per month
Enterprise – $10 per user per month
6. Efficcess
Efficcess is a free personal information manager. The software offers cross-platform support, making it much easier to keep track of the info whenever the need be.
Its automation features add to its charms along with its intuitive interface and options to schedule events and manage contacts and addresses.
Key Features:
Sync different devices in simple and easy steps
Manage different kinds of information through your PC or mobile phone
Search and retrieve information with one click
Import, export, or print info
Password protection
Document editor
Pricing:
The tool offers a 30-day free trial to its users.
Efficient address book is one of the top-ranked address management software in the online market. As the name suggests, Efficient Address book is the perfect solution for businesses especially when it comes to keeping addresses organized, safe and secure.
The tool is available on desktop and mobile phones and synchronizes data across all the platforms.
Key Features:
Contact groupings and efficient contact management
Set reminders for different events and special dates
4-step easy synchronization
Quick and easy search capabilities
Document editor
Backup and restore options are available
Pricing:
Efficient Address Book's latest version is available for $23.96.
8. E-Z Contact Book
The E-Z contact book is another contact management solution geared to help you with organizing and managing data. not only does the tool help in the organization of data such as phone numbers, emails, web pages, faxes, addresses, personal notes, etc., but also helps send emails, print envelopes, and much more.
Moreover, the timely notifications and reminders keep you updated on the latest events and deadlines so that you are always on time. "Wildcard" search is one of the most unique functions of the tool that allows you to search for the contact of your choice almost immediately.
Key Features:
Organize information in groups
Sort data in different orders
Fast 'wildcard' search
Start Skype phone calls with one click
3 different print formats
Import and export data in CSV format
Print mail envelopes and address labels
Pricing:
The tool is available for free for individual users
Full License for 3 Computers is available at $14.99.
Full License for 5 Computers is available at $22.99.
Full License for more than 5 Computers- Contact team E-Z Contact Book for pricing details.
9. Handy Address Book
Last on our list is Handy Address Book. The tool was created by Beiley's software company and is one of the most renowned ones. Whether you are an individual user or a company, the tool provides efficient functions that are effective for both.
Although the address book software is fairly simple, it is very easy to use and has quick and high adaptability.
Key Features:
Compatible with Windows 10
Fast, intuitive interface
Maps and driving directions
Dial contact's phone or email contacts directly
Print envelopes or labels with customization options available
Booklet and phone list printing
Print preview
Sync with iPhone, Android, etc.
Import data from Outlook, Palm, etc.
Share address books over a network
Encryption and password protection
Portable tool
Sync with Google contacts
Pricing:
Handy Address Book is available for free and can be downloaded easily.
Conclusion:
This was out list of the best online address book software in the market, but we are sure, the list of far from complete. There are better software emerging every next second and one of them might be able to replace the ones mentioned in this list.
Have you ever used any of the above-mentioned tools? If yes, how was the experience? Let us know by writing to us here.