A calendar is a tool that is used no matter your profession. Whether you are a stay-at-home parent, a busy professional at wall street, or a dedicated school teacher everyone needs to manage their schedule and remember events of all natures.
With the world taking a shift online, calendars have changed drastically from those paper booklets on desks to intricate software on mobile and PC devices.
One such popular calendar app is Google calendar which is a common choice for many individuals.
However, for an app that is used in such different capacities for different individuals, Google Calendar is not always the best choice for everyone.
That is why we have put together this list of the top Google Calendar alternatives that you can choose from so that you can make an informed decision about which Google Calendar alternative is best suited for your needs.
Before we get on to talk about the Google calendar alternatives, let's look at why people are looking for Google Calendar alternatives in the first place.
Why Do You May want to Look for a Google Calendar Alternative?
Google calendar is a popular choice for many individuals considering its ability to track events and share them with other people, as well as having the ability to set reminders and send invitations.
What's more, is it is simple to use and is free of cost! However, with all these benefits the calendar may not be the right choice for everyone.
Certain limitations that people find Google Calendars has is first and foremost that the calendar can only be accessed with an internet connection. Which although not a constant problem can be problematic in certain situations.
Moreover, Google calendar is limited to users who have a Google account, and therefore, while a great choice for people already using such an account it makes little sense for those who have to particularly create an account just to use Google calendar.
Other users have found that the reminders are lacking and that if there are too many events the calendar soon becomes cluttered and hard to use.
Furthermore, the limited integrations available also leave something to be desired.
Due to these and a few other reasons you may find yourself looking for a Google Calendar alternative. So, without further ado, let's look at some of the other options available in the market for you to choose from.
Best Alternatives to Google Calendar
Here are our top picks for the alternatives to Google Calendar that you should definitely consider whether you are looking to switch from Google calendar or you are simply looking for a calendar to invest in.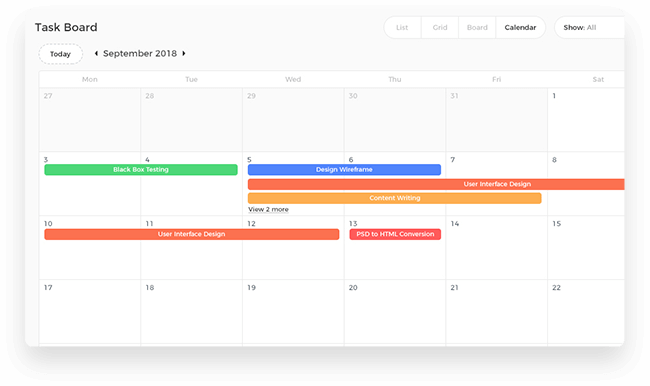 nTask is a project management tool, and while you may be confused as to why this tool is in our list of top picks for Google calendar replacements, nTask's flexible and vast feature set provides good reason for its place on this list.
nTask offers you the ability to schedule and plan your projects and tasks and manage them on an intuitive calendar view.
You also have the meeting management module that allows you to create, manage, and schedule meetings with ease.
With different management views, ability to collaborate and communicate with team members, and more nTask had to make the list of Google Calendar alternatives.
Key Features:
Meeting management module
Communication and collaboration tools
Meeting reminders
Deadline and due date notifications
Task scheduling abilities
Integrations with third-party applications
Best Free Google Calendar Alternative

Manage calendar, teams, tasks, deadlines, and more in single app. Sign up now!
2. Zoho Calendar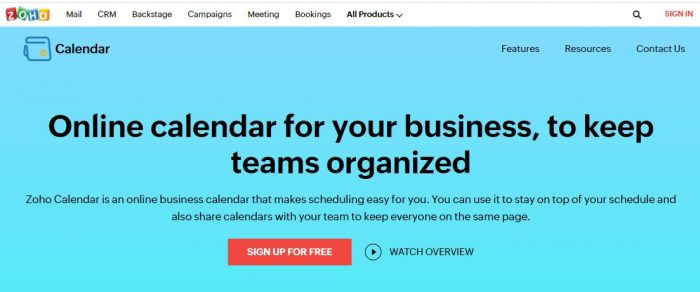 Zoho is a suite of software that offers a range of functionalities. Zoho also offers a calendar software called Zoho Calendar.
The calendar is simple in design and easy to use and implement in your work. It comes equipped with a range of features including the ability to share and sync schedules with external calendars. This particular functionality makes it a great choice if you are looking to use the calendar to schedule meetings or coordinate with team members.
Key Features:
Ability to create and view events in different time zones
Embedded event description
Unified calendar view
Group calendar
Different themes to choose from
Ability to send and receive invitations
Google Calendar access
3. Etar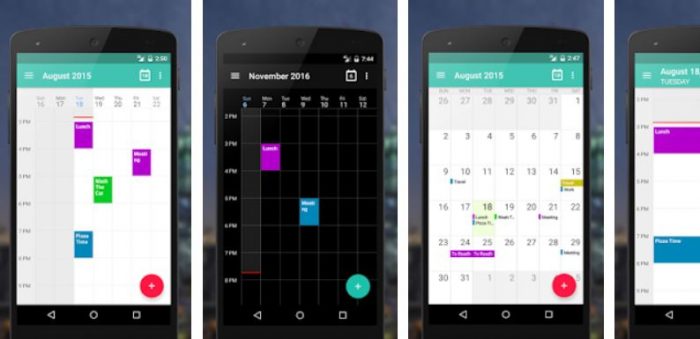 Etar is an enhanced version of the AOSP calendar and provides different views that work for whatever you are looking for. It is a simple open-source calendar.
The app supports day, week, month, or agenda views along with both light and dark themes to choose from.
We have particularly included the Etar calendar in our list of potential alternatives to choose from for Google calendar because it utilized Android's built-in CalDAV making it easy to transition from Google calendar since you can effortlessly transfer schedules from your previous calendar.
Key Features:
Uses Android calendar sync
Open Source
Agenda widget
Dark and light theme
Month view
Week view
Day or agenda view
4. Teamup Calendar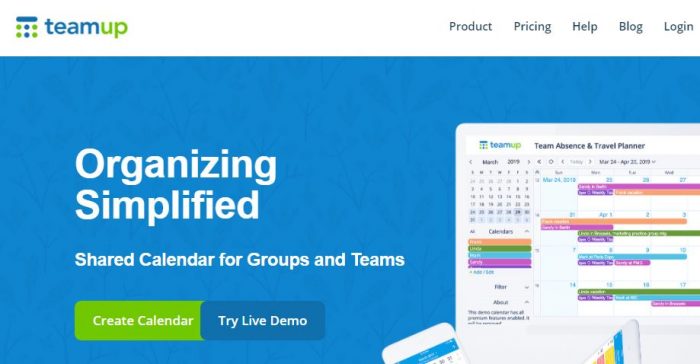 If you are looking for a calendar that streamlines your team's communication the Teamup calendar may be just for you.
Calendars can be customized according to individual preferences and can easily be shared to help better team communication. Teamup's simple platform comes equipped with the ability to share plans, schedules, events, and status updates.
Teamup calendar lets you color-code your calendars according to different projects, teams, jobs, resources, etc.
The platform is managed centrally and requires you to give permission to different users, but unlike Google Calendar your team members won't need to make accounts to use the program.
Key Features:
Collaboration tools
Communication management
Task management
Calendar sync
Group scheduling
Leave tracking
5. TimeBlocks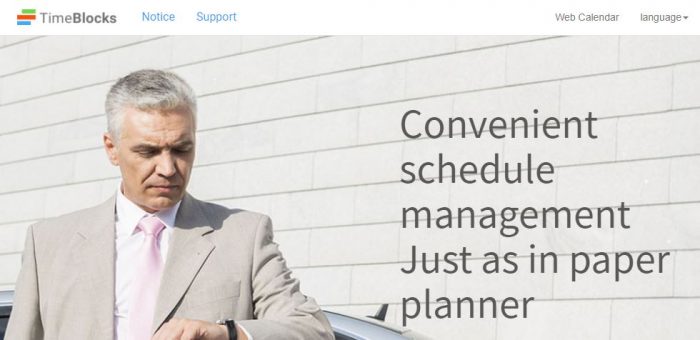 TimeBlocks is a great tool to help you manage your time and combines the functions of a calendar and to-do list.
The calendar has a simple design and allows you to color-code making it a great tool to help you stay organized and know what events are coming up even at a glance.
With TimeBlock's sticker feature this organization reaches a whole new level. This application lets you assign what is referred to as stickers to certain types of events to make viewing your calendar even more quick and easy.
Key Features:
Drag and drop schedule changing abilities
Quick type page schedule writing
Ability to sync with other calendars such as Google, Apple, and Outlook
6. DigiCal Calendar Agenda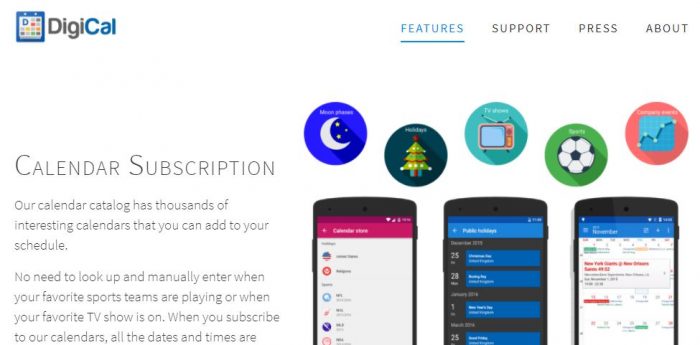 DigiCal Calendar Agenda is next up on our list. This calendar app offers a clean and well-designed interface that is both flexible and customizable.
The app offers a range of different view options including month, list, week, day, agenda, etc.
Like certain other apps on this list, DigiCal also syncs with other calendars such as Outlook, Exchange, and Google Calendar making the switch from Google Calendar easier since you can streamline data transfer.
Key Features:
Supports 7 agenda views
6 customizable calendar widgets to choose from
Access to detailed weather info
Color coding for easier organizing
Built-in location search
Notification options
7. Apple Calendar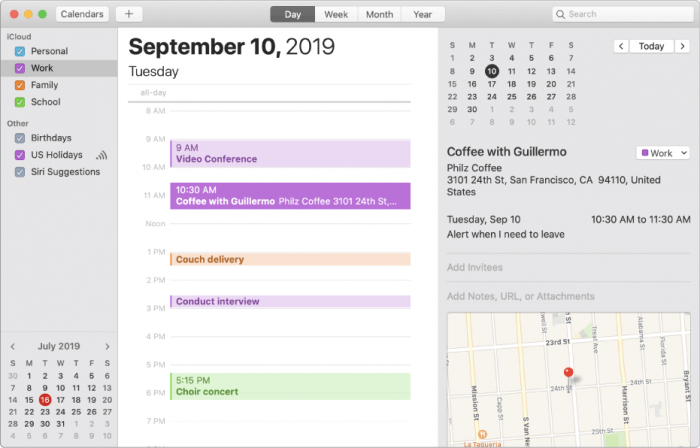 If you use a macOS or iOS device you will have the Apple Calendar built-in to your device making it a good option to consider if you are looking for a calendar app.
The Apple Calendar is simple in design and comes with the option to sync with other calendars such as Microsoft Exchange, Yahoo, Google calendar, etc.
The calendar's syncing option doesn't just stop there, however. You can also use iCloud calendar entries and sync them with all your user's Apple devices.
Key Features:
Option to easily add, modify, or delete events
Ability to create repeating events
Set event alerts and notifications
Invite people to events
Reply to initiations
8. Microsoft Outlook Calendar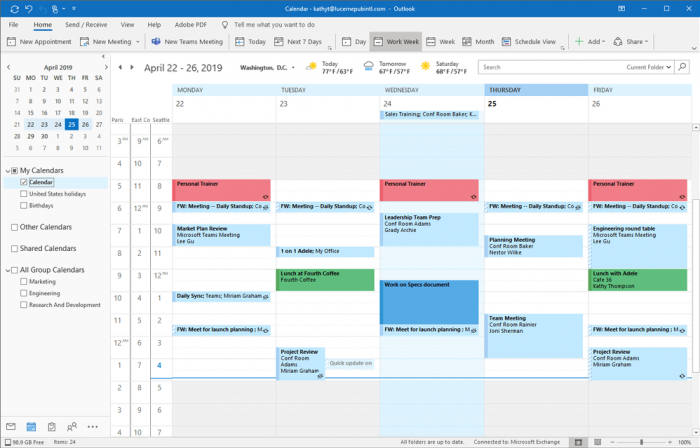 Microsoft is a popular choice for many individuals considering its wide suite of applications to use. One such application is Microsoft Outlook Calendar which is a great and dependable choice.
The Microsoft Outlook Calendar offers a multipurpose desktop interface. You can use the calendar to manage your personal information from email and notes to tasks and contacts all in one platform.
What's more, is Microsoft Outlook Calendar has some great sharing capabilities making it a great scheduling tool to coordinate with team members. You can even use Exchange server accounts to subscribe to other team member's calendars as needed.
Key Features:
Ability to create appointments and events
Organize meetings
View group schedules
Ability to view multiple calendars simultaneously
9. TimeTree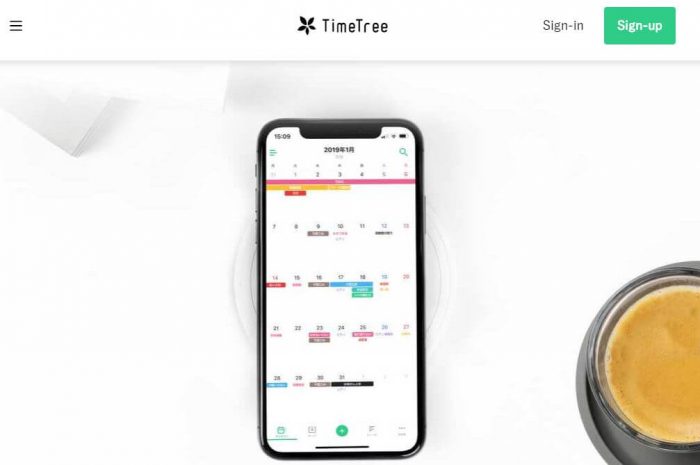 TimeTree is a multi-platform calendar app and is next up on our list. This calendar focuses on giving you the option to share your calendar with different groups such as team members or friends and family.
The app is great to keep everything organized with the option to create different event calendars so you can easily separate your workplace and personal events. The calendar has a simple layout and offers different views where you can view all your events together or segregate them as mentioned.
Key Features:
Shared calendar and scheduling
Multiple calendars for personal, workplace events, family, etc
Shared notes and lists
Works on different devices such as PC, Mobile devices, and widgets
10. Edo Agenda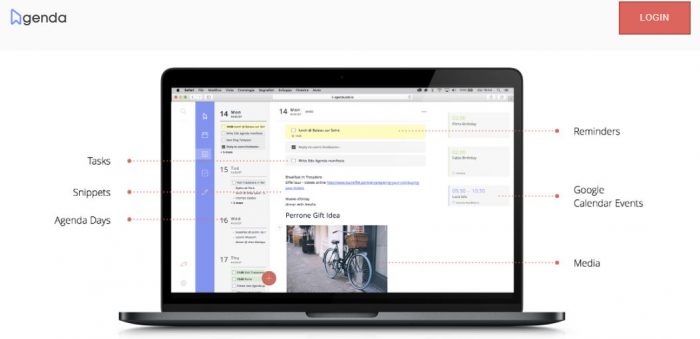 Edo Agenda is an all-in-one calendar solution providing you with a personal organizer by combining your calendar, note-taking, and task management in one.
The app is aimed to simplify and organize your life by helping you keep track of everything you are juggling in a centralized platform.
Edo Agenda is catered towards creative freelancers and is available on both the web and mobile devices including both Android and iOS.
Key Features:
Schedule events, activities, and reminders
Collect meeting notes and manage projects
Create checklists and alarms
Capture and organize ideas and notes
11. Jorte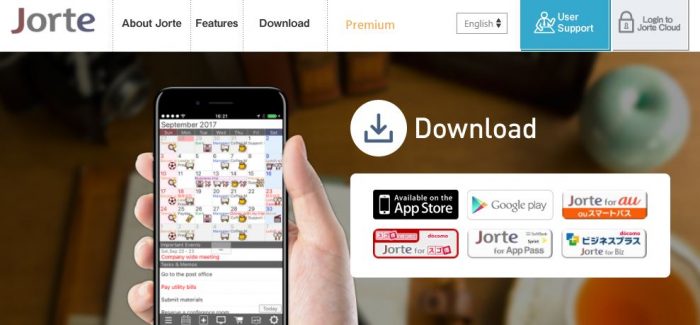 Jorte is a calendar app that offers its users unparalleled customization options. The application allows you to change themes and colors to make the app's appearance to your liking, you can also choose which kinds of events you want to track on your calendar.
Besides events, you create yourself the Jorte calendar also lets you highlight important dates and events and integrate with news websites, and include weather information.
Key Features:
Sharing abilities
Create widget on Android devices
Record pictures and thoughts
12. Fantastical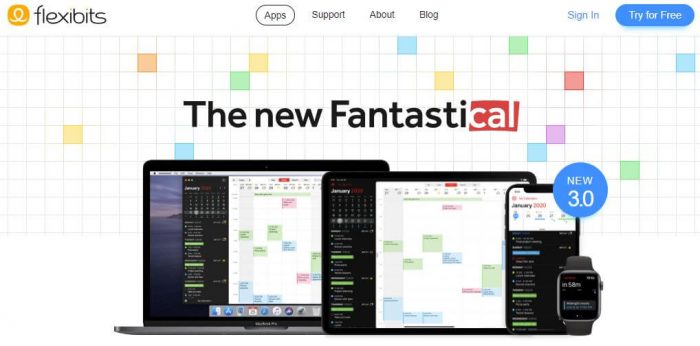 Fantastical is a calendar and tasks app that integrates information across your iOS device to give you a centralized platform for all your events, meetings, and reminders.
The app has an intuitive user interface and gives you alerts and notifications of your events to make sure you are on top of your game.
Key Features:
Collaboration tools
Task management
Third-party integrations
Address book
Appointment scheduling
Availability management
Calendar sync
Customizable templates
Email invitations and reminders
Free Alternatives to Google Calendar
Google Calendar is a great tool for staying organized, but it may not be the best option for everyone. There are a number of free alternatives that can provide similar functionality and features.
Some popular options include:
iCloud Calendar: This service offers syncing between your iPhone, iPad, and Macs as well as access to your calendar on any device. It's free to use with limited storage capacity (1GB).
Outlook 365: Microsoft's Outlook email client also has a built in calendar feature that you can use to manage your appointments and events. The subscription fee is relatively low (around $6 per year), and the software offers unlimited storage space.
Google Calendar Plus: This premium version of Google's default calendar offers more features than the standard version, such as event invitations via SMS or email, customizable themes, location tracking capabilities, and back up plans in case of data loss or accidental deletion. However, it does come with an annual fee of $9 per month or $99 per year.
Trello: Trello is a drawing board/agenda system that helps you manage projects and tasks by grouping them into boards or cards. You can add images, videos, text, and other files to make brainstorming sessions even more productive.
Google Keep: This app is very similar to Google Calendar, but it has some additional features such as note taking and tracking tasks. It's also quick and easy to use, making it a great choice for busy people.
FAQs
1. Which app is better than Google calendar?
Here are a few tips that may help you decide which app is better for you:
 
If you're a heavy user of Google services, then Google Calendar is probably the best option for you. It's free, easy to use, and has tons of features that will make managing your life much easier.
 
In case you're primarily using Apple products, then Apple Calendar may be a better choice for you. It's more convenient and functional than Google Calendar, and it also has some features that Google Calendar doesn't have (like event invitations).
 
And if you want the best of both worlds (Google calendar + Apple calendar), then it's recommended that you use a hybrid app like Allo Calendar. This app has the best of both worlds – it's simple to use and integrates well with both Google and Apple calendars.
2. Apps similar to google calendar?
There are many apps that resemble Google Calendar, but some of the most popular include Apple's iCloud calendar, Office 365 calendars and Microsoft Outlook. Each of these applications offer different features and capabilities, so it is important to choose the one that best suits your needs.
Conclusion
And there you have it our top picks for the best Google Calendar Alternatives you can choose from.
We hope you found this blog helpful in guiding you to make the right choice in which app to choose that will work best for your needs and those of any team members you may be coordinating with.
---
More Readings: